What do you say when someone whose blog you love writes you and says she'd love to work on a book with you?
You say, "SURE!"
What do you then say when she asks if you can design the ugliest patterns known to man... out of acrylic yarn circa 1965?
Well, I still said yes and am now looking into various witness protection programs. I hear the French have an excellent one. Oui Oui!
The result is that I have my name in one of the most hilarious books out there.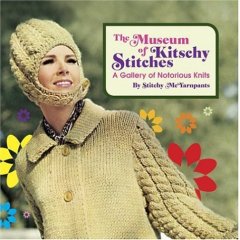 It's like her blog on paper. What would you call that? A plog? Darn new fangled contraptions!
For those whose sarcasm-dar is malfunctioning, that was a joke
You can click on the image to go get yourself a copy, just promise me that you won't judge me by the patterns, except to conclude that sometimes, it takes a certain skill to make something truly ugly. That's what I tell myself so I can sleep at night. It's my mantra.
On another note, I leave for India on Sunday, so if I haven't replied to your comments, it's not because I'm rude or hate you, I'm just scurrying around all day, trying to get things in order. Expect light or non-existent blogging and emailing all next week. If I can get a good connection during my "me" time, I'll post updates. Otherwise, you'll hear all about it upon my return.