Some people give me way too much credit, and Julia is one of those people. I wish it were true that Leo's sweater were finished and blocking, as she suggested, but it's not quite the case. However, it is terribly close to being done.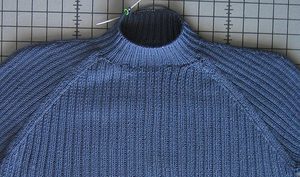 I'm just working on the neck now.
Leo looks amazingly good in turtlenecks, however, with sweaters, he finds that his stubble is always tearing the turtleneck apart, wearing out the sweater long before it's truly ready to be retired. This sweater will have a mock turtleneck and several separate full turtleneck pieces to tuck in and switch out as necessary. If that just doesn't work, I have the yarn and can simply remove the bind off on the mock turtleneck and knit a full turtleneck each time one wears out.
Leo has tried on the sweater up to the point you saw it in the last post. He has declared that the fit, fabric and look are all up to his standards, so I'm feeling pretty good about the endeavor.
For those of you who knit a lot of raglans, you may have noticed that the shoulder shaping is a bit different than one might expect. Instead of a steady slope, there is a true shoulder shape at the top. Do you see what I mean?
Here's a little sneak peek of how I did that.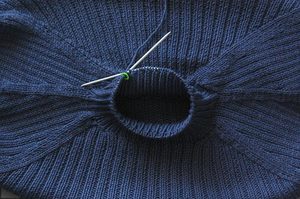 There is an extra "raglan" running along the top of the shoulder that extends from the neckline to about the end of the shoulder (I actually stopped about a half inch short of the final shoulder length). Calculating it was an interesting challenge and I did it by printing out gauge sized charts and origami folding it to the right shape. This is not quite so mathematical as one might hope. Eventually, I plan to work out a pattern and will have to use my experience with this piece to write up a more useful explanation for determining the correct ratio.
Oh, and the sweater has been named. It's now "The Big Four-Oh" in honor of Leo's birthday. And I agree with any of you who share the sentiment that Leo doesn't look at all like he is 40.