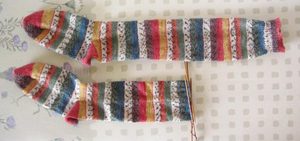 As I knit away on sock number two, the question arises, can a knee length sock with no shaping, whatsoever, possibly fit a relatively shapely leg?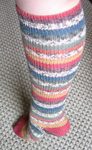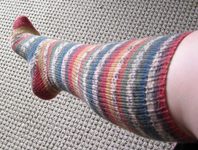 All signs point to yes! Sock number two is actually a bit further along than shown in the pic. These socks will be perplexing passersby in no time.
Oh and thank you to everyone who left my blog a happy birthday note. It's so sweet to hear from first time commenter, old friends and everyone in between. Being the insanely shy person I am, I know I'd never have gotten to meet you all (even if it's only virtually) without this glorious interweb thingy.