Hey, remember when I told you about plying my hair and throwing it in a bun? Well a couple of you asked for step by step instructions.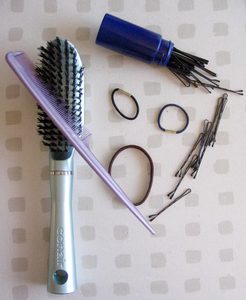 If you want to see how it's done, follow the instructions after the jump.
First you'll want to get your supplies together.



Brush and/or comb


One large elastic


Two smaller elastics that blend well with your hair


Bobby pins


You'll also need a means of viewing the back of your head, via a couple of mirrors


Optional: hairspray, mouse, gel or other product to tame hair


Also optional: Cute dog to "help"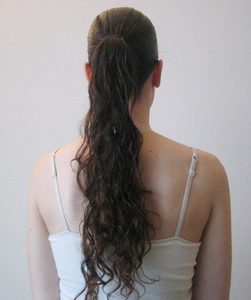 Pull hair to be plied into a ponytail. I usually do this when my hair is wet as it gives a cleaner look, but you can simply apply some gel or mouse to prevent frizzies. If your hair is a bit shorter than mine, trying doing this with just the top half of your hair, making a mini-bun with the rest of your hair flowing freely.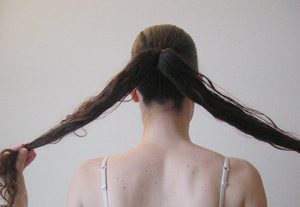 Split your hair into two even sections, combing and smoothing it out as necessary.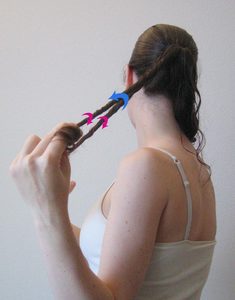 Take one of those two sections and split it in two.
Twist both of those pieces in the same direction and then together in the opposite direction.
I like them very twisted, but this requires more length, so adapt to what works best with your hair.
Secure with a small elastic.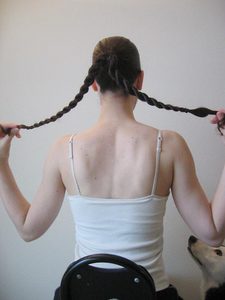 Repeat with the remaining chunk of hair, making sure that you end up with two matching twists of hair. Your (optional) dog may come by to inspect the work, at this point.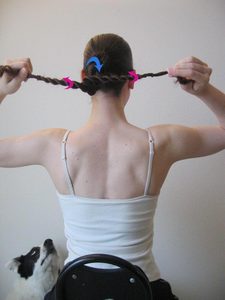 Now, over twist those sections by twisting them in the same direction they are already going and then twist them around each other in the opposite direction
Have pup inspect other side of work.
This is exactly what you did for the individual twists, just the opposite direction for everything.
Take out both small elastics and replace with a single small elastic around all the ends.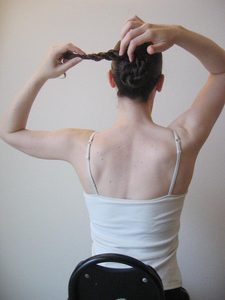 Now just start wrapping it into a bun.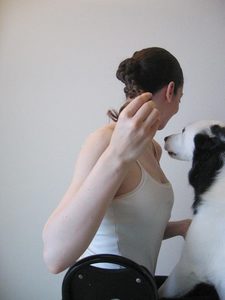 If necessary, let your assistant know you appreciate her help. Tips in belly rub form are most appreciated.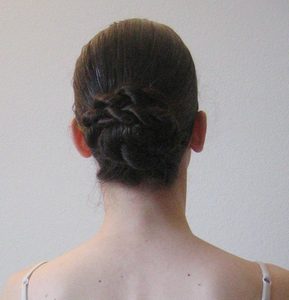 Throw in a couple of bobby pins and you are good to go. I find that a bun like this will stand up to a rigorous workout or session of salsa dancing, without so much as a whimper. Adjust the number of pins to your activity level. I can get by with one or two strategically placed pins if I'm just going to a job interview, but if I were a mud wrestler, I'd probably opt for more.
Doing something more glamorous with your day? Grab a string of beads (faux pearls or something to match your outfit) and twist them into the individual sections. You'll get a beautiful effect with your final bun. Or, you can weave in silk flowers after the fact, there are lots of good little crevices for this.
If you are having trouble making a neat bun because your hair is layered and the ends come loose, throw a hair net over the whole thing. If kept at a single layer, the net will make it easier to pin everything in place, the bun will be neat, and it's barely perceptible if you buy the right color.