About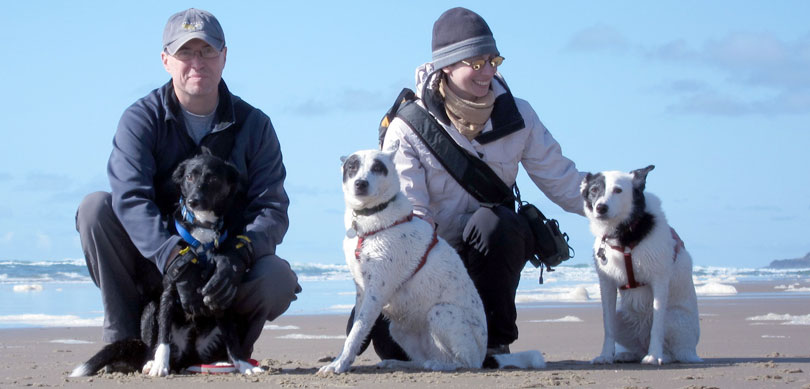 This is the page where Marnie talks about herself in the third person, as though she has people to write about her and a vast audience of people just itching to learn all about her.
Marnie lives in Portland, Oregon with her husband and three rescued dogs, Panda, Thea and Darwin. She figures that anyone getting free room and board (especially those who hog most of the bed. We're looking at you, Darwin,) have to earn their keep, so she routinely photographs them wearing her knits. She is unapologetic. Luckily, they love being on the business side of the camera and come running every time she turns it on.
Designing
Unless you count the animated gif laden Angelfire page Marnie created in the late 90s, she first launch her internet presence in late 2001. After moving from Boston to Los Angeles, she began knitting in earnest and soon found herself dabbling in designing. She lost her Metallica-esqe logo, overhauled* her site in 2004 and became absolutely obsessed with learning everything she could about designing and writing patterns. Over the course of a couple years, she created around 30 patterns and by 2006 she had started selling her first PDF pattern. From there, she has worked to improve her writing style and layout, expand the size ranges she offers and find all new and more humiliating ways to include her dogs in photoshoots.
For the past few years, Marnie has been a production assistant at Twist Collective, where she is involved in all aspects of the magazine's production. She thinks it's wicked awesome (did she mention that she grew up in New Hampshire?).
The rest of her life
About 40 hours a week, Marnie works at a newspaper, which she loves. She's not a reporter nor an editor. Did you know there are other jobs at newspapers? If so, you are an exception. As of the moment this paragraph is being written, her title is something like, Business Analyst, but that seems to change pretty regularly and she has to check her HR info to be sure. It doesn't matter, what does is that she gets to dabble in all sorts of technology, learn and keep her Adobe and Microsoft Office skills sharp and problem solve and deal with customer concerns, every day. Those skills have served her well in her design work, or maybe it's that her design work serves her well at her day job. Who knows. Chicken/egg/toMAYtoe/toMAtoe. Suffice to say, that it's nice work if you can get it, especially since she does it from home.
* This term is used loosely, but considering how low she'd already set the bar, she felt it was apt.