Now that I'm in full fledged "prepare for India" mode, I'm having to get things like Visas in order. In doing so, I've had to pull out my Passport. I still keep my first one.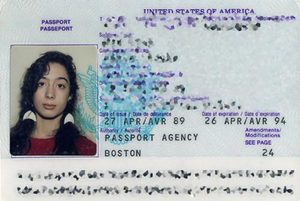 This was issued to me in April of 1989 when I was 14 years old. No, that's not a mullet, I had bangs and two ponytails. Those white things are, yes, earrings. I never had big hair, not even when it was fashionable, but I definitely had big earrings.
Thank god I never ended up being a fugitive while this was my passport photo because I have no doubt that every news station would have run this photo of me.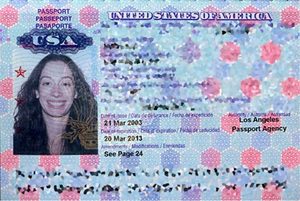 Fourteen years later, my passport photo isn't much better but at least I don't look like I have committed a crime. I got this one three years ago with the hopes that I'd have some reason to use it soon.
And now I have another fug for the files, my Visa photos


I quote my mother, who once said, after I showed her a particularly bad driver's license photo of me, "Marnie, for a pretty girl, you sure do photograph ugly." I may be paraphrasing.