You guys really make a 40 year old guy feel good. I, of course, tell Leo he's a youthful looking and damn fine looking man, pretty much every day, but he considers my opinion to be biased. Sheesh, like that matters. But who can argue with comments from relatively anonymous sources?
I have knit the mock turtleneck of his sweater and finally got him around to trying it on again and it looks great on him, absolutely delicious. I can't say I'm excited to knit several turtlenecks in the round now, but since it's all I have left to do, I hope to get at least one cranked out this weekend.
In the mean time, I've been doing two things.
Knitting some silly socks on the bus: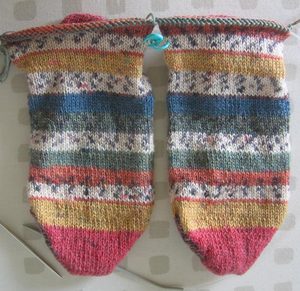 This has been the first week that I'm back to working in my LA office and I've forgotten how relaxing it is to be able to take the bus. I usually only knit a few rounds, since I'm generally too tired to deal with 2 circs and 2 balls of yarn (I like the yarn well enough, but it's like velcro to itself. Has anyone else had that problem with sock yarns?) I'm about 2 inches up the leg. I don't know how long I want these socks to be. I'll probably just knit for a while until I pretty much use up the yarn, or maybe I'll get bored, do some ribbing and bind off. We'll see.
The last thing I've been doing is swatching. It's my unfaithful little heart. I should be finishing, not starting, but what's the harm in a little swatching, right?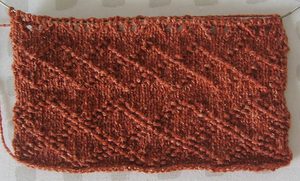 It's some beautiful Silky Wool that I bought from a destashing effort. It's been a while that it's been sitting in my own stash, and I've been reserving a little corner of my brain for ideas. They are still evolving, but I'm pretty sure I want to go with some sort of diamond all-over pattern.
After this shot was taken, I finished the lacy diamond motif that is partially knit by the needles and I worked a more vertically elongated knit and purl diamond motif. I then bound off, washed the swatch and am letting it dry flat. I would show you, but it is dark and I still have much getting ready for work to be doing.