So I am weak. I had every intention of knitting a whole pair of socks on 2-circulars needles. I was going to force myself to become a skilled practitioner of the technique. I said to myself, "Marnie, you cannot judge a method until you have really learned it, so do a whole pair of socks this way."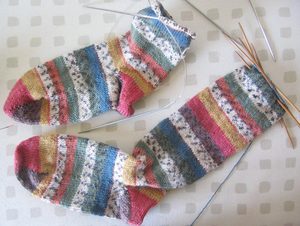 But it's all I can take. The socks have gone their separate ways and are now to be knit on DPNs alone. In my defense, I did move them well after the production of both heels, so I certainly knit a full sock's worth of sock, these are just going to be particularly long socks.
And on the topic of long socks, my most current measuring efforts suggest that I should have no trouble reaching my knees with this babies. I'm not sure that's necessarily a good thing. This may be a case of You Knit What? But I'm proceeding ahead regardless.
From what I can see, I am nearly doubling my knitting production, now that I'm back to knitting socks on DPNs (and yes, I am accounting for the fact that I was knitting twice the number of socks before). What really slowed me down was the pushing and pulling of socks and needles to get started on a new row. In general, I find it inefficient, but on a bus, it's nearly exasperating, as I contort to move everything around without touching my bussly neighbor. I'm as much of a process as product knitter, finding my fingers antsy when I have no knitting to do, but my process needs to be product oriented. Does that even make sense?
On a different topic, now that I'm back to spinning more regularly, here's some more Almost Solid Roving, this time in Corriedale in colorway, Pine.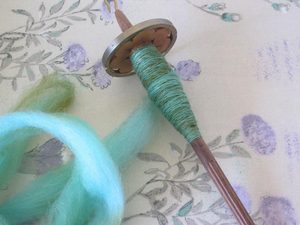 For those of you for whom my ability to describe a technique, has let you down, here's what I meant by the thigh roll. I haven't been able to find a good example of the cabling method I described for both my hair and for the spinning.