I have been working on the trim for my machine knit cardi, for a couple of days. I started by trying to pick up stitches around the whole piece but found that none of my circular needles were long enough. Next, I tried crochet, but I couldn't quite get the effect I wanted. Crochet just tends to be denser and less drapy, and I wanted to keep the trim soft.
So today, I went to an LYS and picked up a longer circular needle. It's funny, really, while it only took me a couple days to knit the piece on the machine, it's taking me much longer to actually finish it.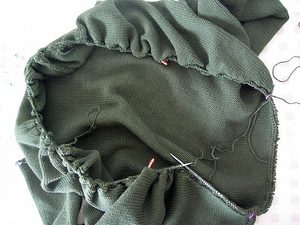 Not much to look at, really, though I tried it on before picking up to knit and I am very happy with the fit.
When I'm not working on the cardi, I've been spinning up more of my sunflower colored roving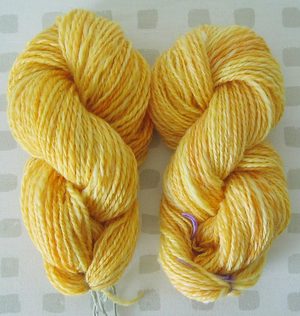 I've spun just over half of the 4 ounces that I bought. The left skein is my first and the right, my most recent. It's a little finer than the first round but not by much.
I've also made one last addition to the shawl.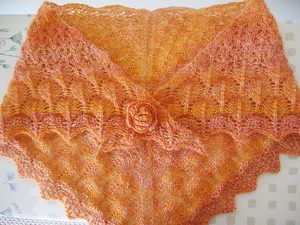 It's a little rose crocheted from the same yarn. I think it'll be a nice way to close shawl without tying or holding it.