Gosh, I hope you guys aren't sick of this shawl yet. I finally took some pictures of it on a person (me) which will give you a better idea of scale. I'm thinking I might crochet a little flower broach to use to close it, too, but for now, here's what I have.
Spinning
Fiber: Cotswold
Source: Nistock Farms

Color: Autumn Spice

Spindle: Golding

Weight: 0.9 ounces / 25.5 grams

WPI: About 20, give or take

Quantity: 3.6 ounces / 102 grams

Pattern
Type: Knitting

Source: My own

Pattern Availibility: Not yet

Reason: Spindlicity Shawl Contest

Size: 48" x 18 " / 122 cm x 46 cm

Needle: US #5 / 3.75 mm

Notes on the project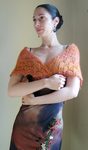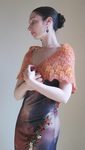 This is the first shawl I've knit, so it goes without saying that it's also the first shawl I've designed. The process was one of visually reverse engineering shawls I'd seen to understand the construction, making a few mistakes (oh, I see, you have to increase in the middle AND at the ends to get a triangle), and ripping. Once I understood the process, I pulled out every stitch dictionary I owned and began to visualize how the stitches would look radiating diagonally, and used on a fairly small piece. I wanted the center to be more simple and airy and the border to be a bit more dramatic. I also knew I didn't want to make a huge piece for fear I'd lose interest or be unable to spin enough yarn.
The fiber I used is Cotswold. The owner of Nistock Farms says on her site that it's sometimes called the "poor man's mohair." The resulting yarn that I spun was, indeed, pretty hairy. Cotswold is not the softest fiber in the world and if you are looking for something with which to make a bikini (and please, just say "no" to wool bikinis) this is not the fiber for you, but as a shawl, Cotswold offers the same insulating properties you get from Mohair and that is not a bad thing at all.
As for spinning, I have enjoyed spinning this fiber more than any other I own. It feels like it nearly spun itself, and did so at a lovely fine weight. I would think that a blend with a softer fiber, like silk or merino, could make this a very versatile option for anyone who isn't sensitive to wool.
Knitting the piece filled me with some amount of dread. If you look through the progress of this piece, you'll see that I employed life lines and stitch markers to a point of near obsession. It turned out to be unnecessary as I never had to rip back more than a couple stitches, but I think having them there worked as a security blanket, and kept me going.
If I had to do it again, I might change a couple things. First, I feel that the smaller scale lace didn't flow perfectly into the border lace. It would have been better to plan to have the lines converge a little better. Also, I might have made it a little larger, though not by much. One of the reasons I like shawls is because a delicate one can fit in a medium sized purse, if one is done wearing it for some period of time. Most jackets don't afford you that luxury.