Now that Leo is working downtown, we spend a lot of time together. We commute in together, eat our lunches together and commute home again later on. Even with all that time together, we still find ourselves touching base throughout the day. Both of us use our IM accounts to do actual work (who'd a thunk it?) so it's easy for us to write each other, throughout the day, when things come up.
But every once in a while, I have to call him at his desk. Whenever I do, he answers with a chuckle. Why? Because his caller ID sees both my cell phone and office number as follows:

When I call, I'm announced as "SUPERTRUNK." Being she who bears the interloper, aka "Junk in the Trunk" I'm rather shocked to hear that it's detectable, even by a phone system.
Now, the past couple of months, I've certainly been given said "trunk" a bit of extra exercise. Whenever Leo and I meet for lunch, I scale the 2nd street hill of doom.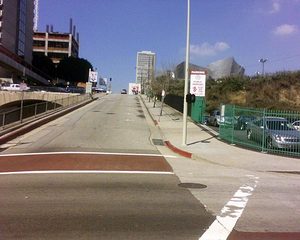 Trust me, it's doomier than it looks.
And then I climb two flights of stairs up to MOCA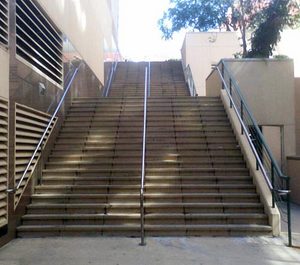 And I'm a brisk walker indeed, no breaks along the way.
So while I'm amused, or perhaps even flattered that Leo's phone thinks I have a super trunk, perhaps I shouldn't be so surprised.
And if conversations about my derriere are off topic for this blog, well, so be it. I'm a bit loopy from work exhaustion. Perhaps, if there is not a mass exodus from my blog after this post, I'll introduce you to the mutant flowers near our favorite lunch spot.