This Sunday, we decided to take Panda to the mountains so she could play in the snow. We live about 40 miles from the San Gabriel Mountains, so it's hardly an inconvenience to pack up the girl and head for the hills. So we shook off the sleepies after a night filled with Salsa dancing (well, I did the dancing, he stuck to scotch and people watching), grabbed the little fur ball and began our journey.
We drove along, listening to an audio book and taking in the sights. We realized, though, that we were a little off track when we saw a sign for this land mark.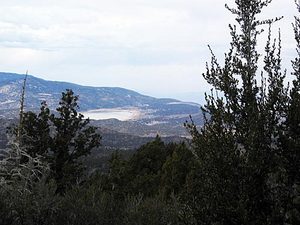 For those of you who know Southern California, you may have already guessed where we ended up. For everyone else, you can find out after the bump.