It's only about 4 feet wide, so it's a mini-shawl, but it's my first and it's made from my handspun so I'm as happy as can be.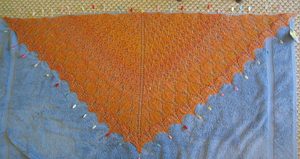 Leo said "It looks like it could fall apart, like it could break." I informed him that the term is "delicate" and that, for lace, that's a good thing.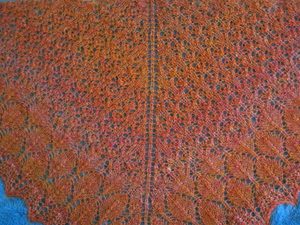 It should be dry tonight and I'll be able to get some better pictures, but for now, this will have to do.
And boy, Panda has been in belly rub heaven. She loves the love, so thanks to all of you who sent her some. For those who asked, yes, she is getting cuter and yes, I'm a complete sucker for her big brown eyes and yes, she knows she's working it.