I generally do not knit variegated yarns. Firstly, when knit normally, they create a horizontal line that, in garments, may tend to add weight where not desired. Additionally, I tend to prefer solid or small scale patterns lest I be lost in all the noise. But I cannot deny the allure of colors combined beautifully and when spinning, it ads another level of interest to the whole process. So I've been thinking about ways to use my variegated handspun yarns. Chevrons and feather and fan stitches are a great way to add interest and I've used those in the past. Lace can produce a similar effect, but tends to clash with the variegation, leaving both looking a little haphazard. So how about a slip stitch pattern?
Good choices are ones that are meant to combine multiple colors and will work best with yarns that have a lot of very intense color changes. So a monochromatic or subtle variegation is probably not ideal. I thought this would be a great way to work my Autumn yarn.
This is a relatively simple slip stitch pattern meant to be worked in two colors. You work a series of double YOs over on one row, then slip those YOs for 4 rows, working the other stitches in stockinette. Then you fan out and work those YOs, over the course of 3 more rows, to produce a leaf like motif. The idea is that you'll probably be working a different color in the yarn than that used when you first created your YOs.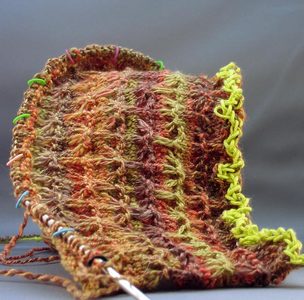 This breaks up the very horizontal effect of the variegation and introduces some interesting vertical lines from the slipped stitches.
Here's a close up for you as well. And for those of you who think I'm a consistent and skilled spinner, you'll note all the thick and thin/over and underspun sections as well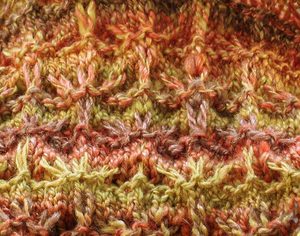 I think this is the first time I've ever wished my yarn had even more variegation. The whole piece will need some good blocking, but I think you get a good idea of the effect.
The goal is to work this up into a little hat, and maybe a pair of gloves or mittens. It'll be a nice reminder of the colors of autumn through the long winter months.