I just got back from a quick business trip down to LA. It was so short, it hardly seemed worth mentioning, because I knew I wouldn't have time to see all the people I wanted to. In the process, I did manage to catch myself a little cold. I suspect I got it in the airport or in one of the many meetings I attended. Leo may have another cold all together, which means in the next few days, we may be in a mountain of tissues and in a cold medicine haze. This is my lead in to saying that, for the time being, if it isn't cozy and snuggly warm, I won't be modeling it here on my blog, which means there are no progress posts of the silky wool piece.
So while I eat my chicken noodle soup (with a splash of lemon juice,) I've been sticking to less taxing projects, like, spinning some beautiful Chameleon Colorworks fiber.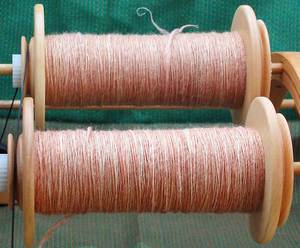 This is approximately 4 ounces of peachy colored singles. It's an unnamed colorway, in a Merino/Viscose blend, spun at a fairly fine weight. I'll be making a 2-ply with it sometime soon. It's definitely not as exciting to spin a monochromatic colorway, as it is to spin something vary variegated, but I love the subtle shading that is produced. The colorway is mostly very soft and muted shades of orange, with touches of gray throughout. The best way to describe it would be "cream of pumpkin." I've actually been spinning this fiber for several weeks, but finally finished the last little bit of it last night.
I started this other project last Wednesday night.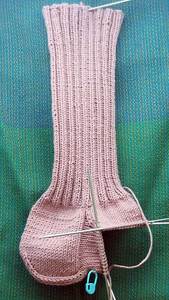 It'll eventually be a pair of socks for Leo -- he of the arches so high you could fit Donald Trumps ego under them.
The yarn is Blue Moon Sock Candy in Pecan. The fiber is 96% cotton and 4% elite. The pattern is a variation of one of the patterns from Nancy Bush's Knitting Vintage Socks. Normally, I prefer to knit socks toe-up, but I've heard those aren't so good for the sky high arches that Leo was blessed with, so it seemed as good a time as any to start acquainting myself with the more traditional cuff-down variety of sock. Leo is particularly concerned that there be no seams, which I have assured him will be the case. I've also made it clear that he should not get used to wearing handmade socks. Luckily, he's always been very appreciative of hand knits.