No, I didn't augment my T&A (heaven knows the "A" doesn't need any help), no I got a little work done on my tattoo.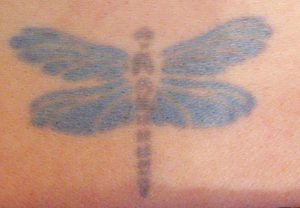 Some of you might remember that Leo got a tattoo recently. Well, my little tattoo was several years old and in need of a 30000 mile tune up, so we headed back to Lady Luck for a fun filled night of needles and blood.
I've always liked my little tattoo, which I designed to be something with absolutely no emotional, symbolic or in any way special meaning to me. Thinking back to what was meaningful to me at, say, 15, I'm certainly glad I didn't put Edgar Allen Poe or The Vampire Lestat on my body. What's important to me now may have little meaning to me in another 15 years. So to be sure I'd not suffer "buyer's remorse" in the ensuing year, I decided on something I thought would be pretty, and placed it in a spot that I didn't have to look at every day. The combo of the two has held up well for me so far. A little fresh coat of paint ups the joy even more.
The artist who worked on both Leo's and my tattoo is Jea'nine.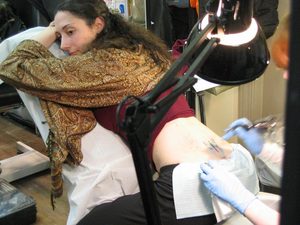 She reworked my tattoo for over an hour.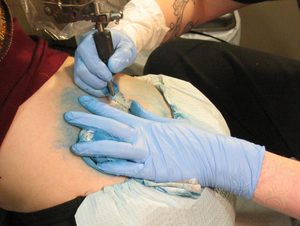 Did I mention I didn't need any augmentation in the "A" department?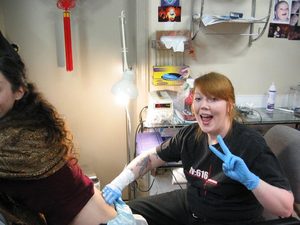 When the work was done, and the entire staff had popped by to look at my tush finished tattoo, the results were more beautiful than I could have hoped.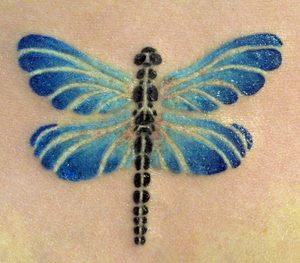 She cleaned up all the fuzziness and really emphasized the gradation in the wings. It was even better than I could have hoped. I'm sure in time, it will fade a bit and soften, but at least I know I always have a reliable place to go to get her back to her former beauty. I love it.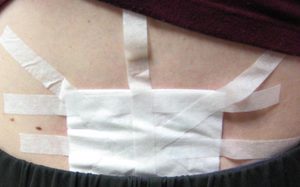 She bandaged me up and sent me home with my care instructions. Luckily, I never sleep on my back so it was a restful evening.
The next morning I had a little rinse and a touch of A&D Lotion, and one more photo shoot, slightly less bloodied and red.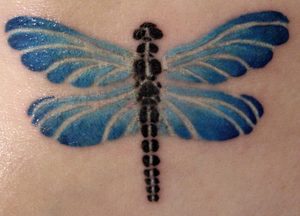 So if you are in the Portland area and looking to get inked or pierced, I can recommend Lady Luck highly. I've already started some sketches for what I'd like to do next.