I have finally finished all my unbloggable work except for the editing portion which will probably be ongoing for a month or more. That means I can now do stuff just for me! Yay. Don't get me wrong, I love the stuff I was doing, but it's a relief to have the work done.
The first thing on my plate was to do something with that yummy sage green silk/merino blend I've been spinning.
I only had a small amount left, just enough to half fill a bobbin, so I decided, instead of doing another navajo ply, that I would make a funky tweedy yarn with something else from my stash. But what? I have some beautiful green fiber from my parents, but I have enough of that to make a garment and don't want to disperse too much of it amongst other projects. Plus, green and green is not so exciting a combo. It occurred to me that I have a nice quantity of purple merino/silk that my brother gave me last year. Basic color theory would tell you that purple and green are not generally a combo that would blend well, but I wasn't going to be deterred by none of them thar theories. So I cranked out a half bobbin of beautiful purple roving into some very fine gauge singles to be plied with the green.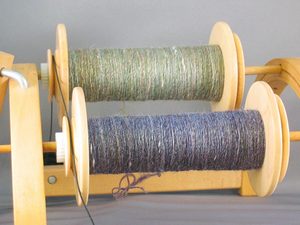 In total, I spun up about 1.6 ounces of each fiber.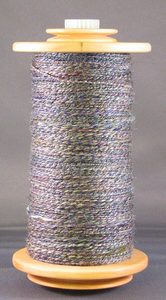 I plied them together and noticed that the bobbin, when being filled (i.e., spinning really fast) was actually a navy shade. Who would of thought?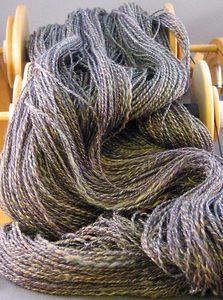 Close up, there's no navy at all, but the overall effect is sort of a deep muted shade of bluish something.
It's a little hard to put your finger on it.
I love all the various colors that shine through. The green had a lot of red, yellow and bits of blue in it, so that areas of the yarn show no green at all, but instead, soft shades of pink or a shocking flash of blue.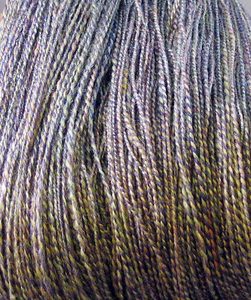 I'm not sure I'd suggest this color combo, but I think there's a place for it in my stash.
Specs
Ounces: 3.6 ounces
WPI: 20 (give or take)
Weight: Lace/Sock
Yards: 380
It's fairly consistent though, while getting used to the WooLee Winder, I did manage to get a few underspun bits in the green singles. even so, the yarn should knit up pretty evenly.