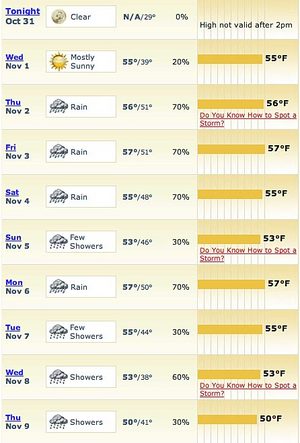 This is the weather forecast in my neighborhood. Tonight they are expecting it to get down to 29ºF, just in time for Halloween. But you know what's so very wrong? The next nine days won't drop below 39ºF! What sort of sick and twisted turn of fate is that?
Having grown up in NH, I know what it's like to ponder the benefits of bundling up against the complete loss of continuity in one's costume. Freeze and look "just right" or bundle up and have nothing but a tiara to show for your princess costume. Do princesses wear moon boots?
Even as I write this, I worry more for our supply of candy than I do for the health and well being of the children. I'm in a new neighborhood, full off little single family houses. Will I have enough candy? What if there's a line of kids outside my door and I run out? Will the kids accept roving instead? Can I really part with roving for a bunch of greedy kids in pirate costumes? Only time will tell, I suppose.
For now, I have to remember not to graze upon the candy I do have.