I have a huge favor to ask you guys out there. I'm working on a pattern for a company and I need to have some good leg measurements for all different kinds of women, from petit to zaftig. I would NOT expect anyone to want to leave those sorts of measurements in my comments, so I'm hoping I can sweet talk you into emailing me those measurements with assurance that your numbers and names will never be released in combination with each other.
So, what I'd need is:

Circumference at ball of foot


Circumference at ankle


Circumference at knee


Distance from ankle to knee


Circumference at mid thigh (Sit down. Measure halfway between knee and crease of lap)


Distance from knee to mid thigh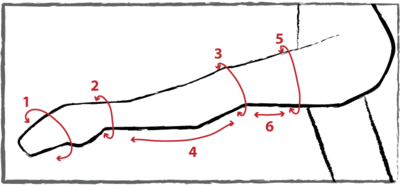 or click the "Contact" button above. Either will allow you to send me an email. Include the subject line "my leg" and the measurements for each number in the body of the message.
And because I know this is a bit of a pain in the butt, I'll be sending one random contributor a special gift. The winner will be picked Friday night and can choose either a knitting or a spinning related little prize.