Copyright Roxie Day 2006
Published by Marnie MacLean
Designed by my mom, Roxie Day, this piece is as much necklace as scarf. Make it as lush or sparse as you like, change the colors or add a carry along fiber to add a little sparkle or texture.
The pattern is available in PDF format. You'll need a free copy of Acrobat Reader to open in.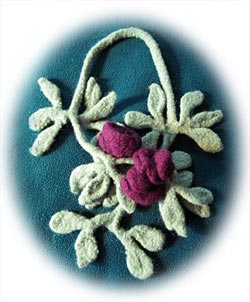 To download the pattern, click here.
Thank you so much for your interest in my patterns. Most of my free patterns were efforts to learn to design and do not conform to industry standards for sizing or terminology. Enough people continue to knit from these designs that I am happy to leave these patterns up for people to use but I cannot offer any amendments or substantial support for them.
As with all my patterns, you are welcome to use these patterns for your own personal, non-commercial or charitable use. If you wish to sell items made from these patterns or teach classes using my patterns, please contact me. Please do not distribute this pattern in print or electronically or post this pattern to your own site or publication. If you wish to share this pattern, please send the person a link to my site.