I don't believe that I use any sort of ninja death grip when I knit. My hands don't get cramped and my gauge is fairly loose. Nonetheless, I have managed to break stitch markers while knitting.
For many years, I have happily used my Susan Bates stitch markers. They are readily available and cheap as can be. A small box of 20 will run you less than $2.00. It was not until I crushed a few, mid row, that I decided I needed to see what else was out there.
Now my collection of stitch marking paraphernalia looks like this: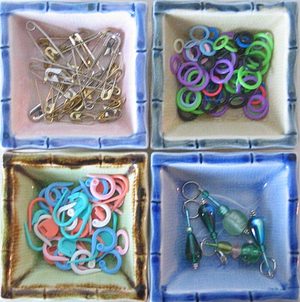 In my knitting nook, I have a set of those dishes you put your soy sauce in when you eat sushi. In one dish, I keep standard safety pins, some with the loop at the bottom, some without. In another dish, I keep a variety of closed ring, circular stitch markers. In the third dish, I have split ring and locking stitch markers, and in the last, I have a beautiful set of hand made stitch markers my friend Amy gave me.
If I haven't bored you yet, read the rest of my post on stitch markers, after the bump.
I've pulled out one of each kind and laid them out.
If you've been knitting for any length of time, you probably have some or all of these types of stitch markers as well, and perhaps you have favorites among them. Like many aspects of my life, I've found myself rather particular about when and why I use each type of marker.

For the most part, any sort of split or openable markers, including safety pins, are relegated to tasks such as marking out four inches worth of rows and stitches to count gauge. I'll also use them for temporarily holding pieces together to check fit or to mark the front or back of a piece that appears the same on both sides. They are important stitch markers but don't get as much use as the closed rings.

Even amongst this group, I do have a favorite.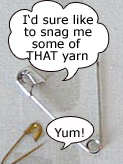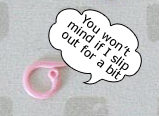 While safety pins are cheap and easy to find, the parts can catch on fabric. Even the quilter's pins, that lack the loop at the bottom, can snag on yarn. The split rings have their merits, they slip easily around the needle or through a stitch. They are relatively smooth and sturdy and come in several colors. However, their hold on the yarn tends to be tenuous and if I've bothered to indicate something with one of them, I prefer it to be my decision to remove them when I'm done, not the stitch marker's. I suspect they are more useful to people who use straight needles over size US #3, but I prefer circulars whose cords tend not to be wide enough to secure the marker in place.

That leaves the cute Clover lockable stitch markers. They have the security of a safety pin and they don't snag. Of the bunch, these get more use than any.

While there's no doubt these are great little tools, I do not care for any of these as replacements for the sealed ring variety of stitch marker. While I've used any and all of these for the purpose of marking points of interest along a row of stitches, each slows me down when used in that capacity. So unless the comments for today's post, suggest that I've bored you all to tears, my next post will wax not-so-poetically on my sealed ring stitch marker preference. Please, try to contain your excitement.