I haven't had as much time to knit as I'd hope, so the shawl is going slowly. Admittedly, that's partially because I don't consider it a traveling knit. I really have to focus on it pretty well to make sure I don't mess it up and that means it's hard to work in poor lighting or while commuting. But, I am still really happy with it and am channeling all those words of encouragement from folks.
Wanna see more?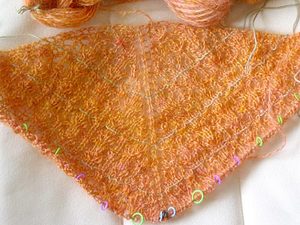 It kind of looks like it did in the previous post, huh? But I'm not just knitting for it, I'm spinning for it too.
Here's everything I've spun to date. It comes out to about 74 grams sock weight yarn.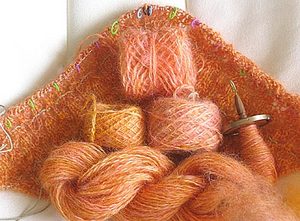 My most recent batch is 67 yards and weights 20 grams. Anyone have any idea how many yards/grams I'll need to make an averaged sized shawl?