This Sunday, we decided to take Panda to the mountains so she could play in the snow. We live about 40 miles from the San Gabriel Mountains, so it's hardly an inconvenience to pack up the girl and head for the hills. So we shook off the sleepies after a night filled with Salsa dancing (well, I did the dancing, he stuck to scotch and people watching), grabbed the little fur ball and began our journey.
We drove along, listening to an audio book and taking in the sights. We realized, though, that we were a little off track when we saw a sign for this land mark.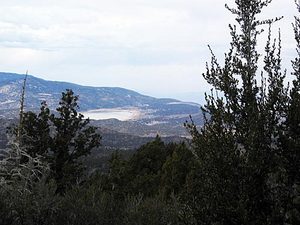 For those of you who know Southern California, you may have already guessed where we ended up. For everyone else, you can find out after the bump.
We somehow managed to warp the space-time continuum and end up over 80 miles from our intended destination. We landed, in beautiful Big Bear Lake, California.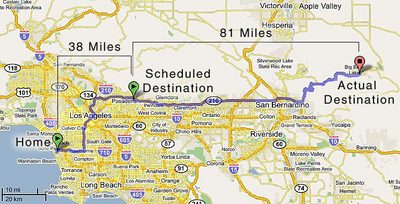 While there really wasn't much in the way of snow, we still managed to have a great time. We brought a light picnic lunch, Leo got to drive off road and Panda found herself endlessly charmed by the clean brisk air and all the sights.
So ahead, please find some gratuitous nature shots with my two cuties thrown in for good measure.
Pretty Berries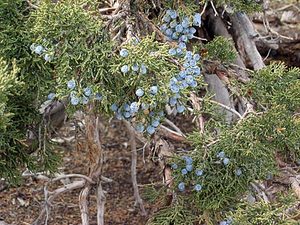 And twigs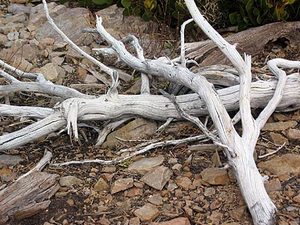 Please insert your favorite "twig and berries" joke here.
Here are the two joys of my life, looking as cute as can be.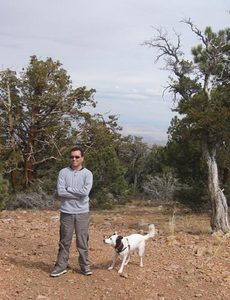 Stewie (Leo's car) has been getting decked out with all the fixings, recently. Those giant headlights and bumper protectors don't do much when we're driving around LA, but sure are handy in the mountains.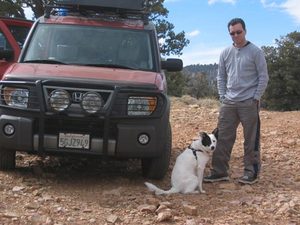 I am the height of winter fashion. If the fuzzy hat doesn't end up on the runway this winter, that 3/4 sleeve sweater over the long sleeve sweater, all beneath a quilted vest, will surely be seen on the A-list stars at the Oscars.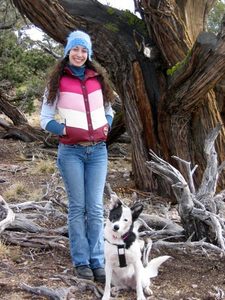 I was really taken with the trees, which is good, because there were a lot of them. I believe these are Sierra Juniper trees. If there are any botanists (by career or hobby) out there, please feel free to correct me if I'm mistaken.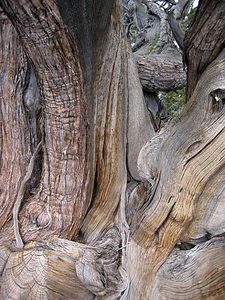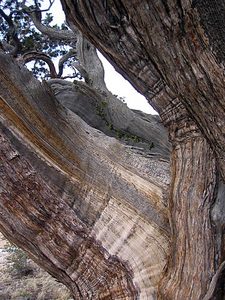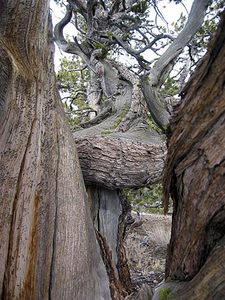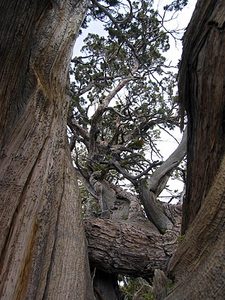 This last one just looks painful.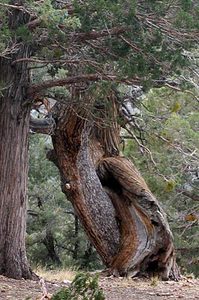 Once we started heading back home, Leo decided to do some impressions. This is Leo pretending to be Britney Spears with her baby, driving through Malibu.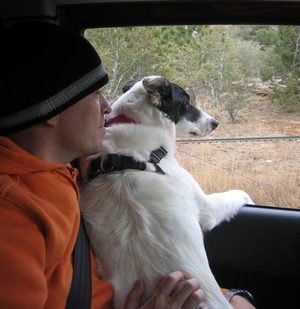 Of course, to really get the full effect he would have needed to be barreling down the PCH at 50 miles an hour, but I still think the impression is spot on.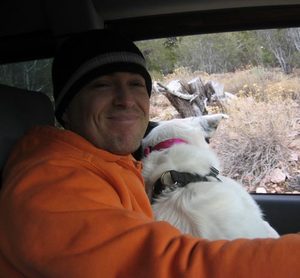 And since I always save the best for last, here's some unadulterated Panda goodness.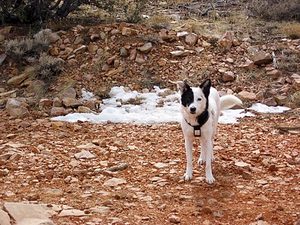 We did find a couple patches of snow, while hiking, and Panda is never one to shy away from it. In fact, I think it brings out the silly in her.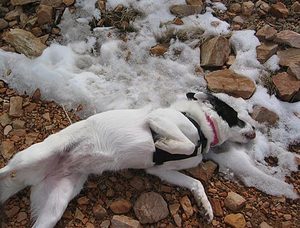 She stepped one little paw into it and she was down for a Shake and Bake. And do you see what she's doing? Click the image to make it bigger. Yup, she's having a little munch, mid roll.
For a Sunday, it was a pretty long adventure, but we all enjoyed it. I don't think it'll be long before we try again, but next time, I think I'll print out some directions.