Of patterns and payments
Just as a note, to all of you out there. Many of you write very sweet comments and I don't always have the chance to get back to you. I know it's fairly meaningless to see a "thanks to everyone" kind of statement, but it's honestly sincere. So, please, if I don't write you back, or if I take a bloody eon doing so, don't think it's a reflection of my opinion of your comment, it's simply my own poor time management.
That said, thank you to all of you for making me feel like a knitting stud muffin in Bella P. Many of you mentioned being willing to buy the pattern. At this point, I don't actually plan to sell any of my patterns on my site. All my patterns will remain free. That said, a great way to show your appreciation would be to consider either
purchasing some of my merchandise
or
making a donation
. Think of it like your local NPR or PBS station, without the yearly pledge drives. Just in case you think me a hypocrite, I do, indeed, give to my local station: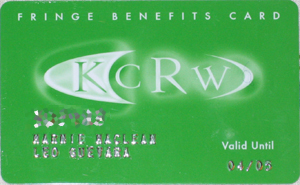 I'm trying to keep the shameless commerce to a minimum, because I could imagine finding it pretty annoying, so I'll keep it short. I make about a dollar or two on each item in my shop. The shop has nearly paid for itself for 6 months and anything else will be profit in me pocket. (Is that profit in your pocket, or are you just glad to see me?)
Ok, no more of that.
In knitting news, I ran my weekly S&B yesterday and one of my students is on her second scarf. Another woman is ready to start a
Santa hat
. A couple women brought their quilting/embroidery which was great fun to see. I'm hoping to get some pictures at some time, but I'm not sure if that would seem intimidating to them.
And on a final note, I'm going to put together some instructions for using the k-Tel knitter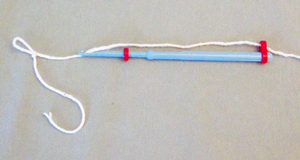 People have been asking me to send them copies of the instructions but I'm not totally sure what the copyright issues are around that. Instead of risking any problems, I'll simply do up my own instructions. I'm definitely not adept at using this thing yet, but I get the basic premise. From my experience, it's really more of a modified crochet tool, not a knitting tool. In my opinion, it seems less even and less efficient than crocheting, but it may appeal to people who have never done any knitting or crocheting and would like a simplified option. I'll let you know when the instructions are up. It'll probably be a work in progress while I try to get the different stitch patterns up.
Stop the presses!
I just came across
this
via
Dave Barry's blog
. and had to post it.