Invisible Productivity
Well, I was fairly productive, getting two of the four Bella P charts done. I'm hoping to have the other two finished this week and then I simply need to supplement them with some written instructions. Since you really can't see the work I've done on the charts, yet, there isn't much to show. I have been working on a couple other projects: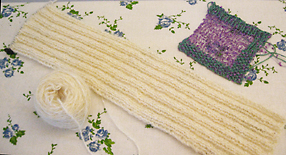 A simple scarf which is my "mindless knitting" to be pulled out whenever I can't be paying much attention to my hands, and I've started on a pattern for
this company
. I'm really not sure what their policy is on blogging my progress, so I'm going to err on the side of caution and not show anything but the swatch.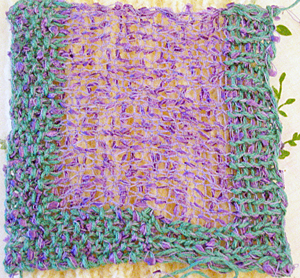 And, since Michelle asked about Panda pics: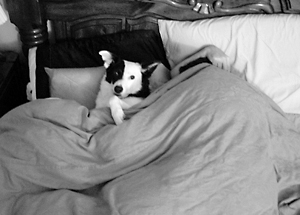 When I came to bed last night, this is what I found. For your information, Panda is lying where I would normally be. While she is obviously surprised that I'm taking her picture, you'll note that she's not making any effort to vacate my side of the bed.