Dilemma
Leo and I went to see
The Incredibles
on Friday and it was really
wonderful
. Despite the fact that Leo was seated in front of what may have been the most obnoxious woman ever, constantly kicking his seat and forcing louder than necessary laughter to entice her child to laugh, nothing could distract from the fact that the movie was pure and simple pleasure to watch. So now to the dilemma. You see, I love Spongebob Squarepants. I've loved him since he was relatively unknown. For many years, I've had to work a lot of night shifts which meant I'd wake up mid-day, to start an afternoon shift. I don't care for soaps or talk shows, which leaves me with cartoons. Cartoons have been an enjoyable means of waking up, for me since kindergarten, I doubt that will change any time soon. So here's my dilemma. What if the Incredibles was so good that I don't enjoy the new
Spongebob movie
? The bar has been raised and I'm not sure that even my sweet, yellow, water breathing friend can compete. How quickly my affections are diverted.
While I ponder that, I've been playing around with some lace knitting. I bought
Gathering of Lace
several years ago and have always been smitten with what I've seen. Unfortunately, my favorite patterns aren't very useful to me. I don't have a need for a round shall, and the garments are all a little boxy for my taste, but I'm not one to let that stop me.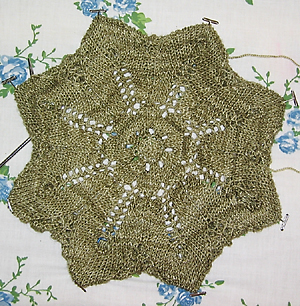 Click the image for a larger view
I've decided to go ahead and knit one of the patterns, anyway. I probably won't do too much more since I don't have the yarn to actually finish the piece, but it's been a good learning experience to work it this far. Theoretically, I could make a tam or a pillow, but I wouldn't use either, so I'll knit a bit more, pull it out and start something else. I don't think the photo does the lace justice, the close-up is a little better, but both make the lace look heavier than it is. I'm using my green Koigu on US #5 needles, and the subtle variations in the yarn give it the look of tarnished copper.