Block You Like A Hurricane
I tried to come up with the worst possible blocking pun I could. I think I succeeded, admirably.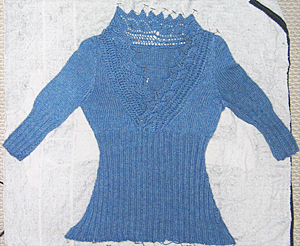 Bella P is in the home stretches now. Wait, that's another pun! Stretch…block…funny stuff, people. Anyway, she's lying flat, with a few choice pins to keep the lace perky. It may take a couple of days to dry at this rate, since Playa Del Rey has been drizzly. Once she's dry enough I'll snap a few pics for you all to see.