Where'd the weekend go?
I'm a bit achy from various cleaning activities, but the end result is a saner looking house. Actually, while I was off at my friend's wedding a couple weekends ago, Leo did tons of stuff around the house that had been sadly neglected. While we stay on top of the basic cleaning, both of us have tended towards being a bit cluttered (anyone who knows me right now is laughing hysterically. Organization is not my strong suit). While I doubt my brother would care if my knitting littered the entire living room, I did think it would be appropriate for me to get it moderately organized. So all I have left to do is a little tidying of the bathroom and I'll be happy.
On a knit note, Tesla is moving along inch by inch. It looks just like it did before, only a little longer, so no pics for you.
After that, I get to move on to Paco. Every time I think I know what I want to do with it, I see something that inspires me. It'll be a top for sure, just what, I can't say. If you don't remember what Paco looks like, here's the spool of yarn: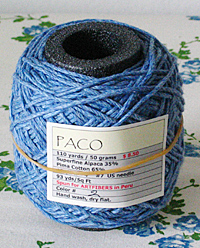 It's what I used to make the
Nautilus
hat, and it's a pure joy to work with. I'm leaning towards making something I could
actually wear to work, since
little
that
I've
knit
actually fits into that category.