Copyright Marnie MacLean 2003
Click on Images for Larger View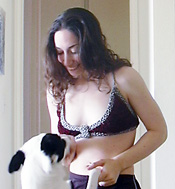 Gauge:
Corsetto: 19st and 20 rows =4" in seed stitch
Supplies:
#13 needles
1 ball of Corsetto in Patina
Less than 1 ball of Contrasting Yarn in color of choice (Please consult staff at Artfibers for more info on the yarn)
Size G crochet hook
Yarn substitution
Corsetto is a relatively thick metallic ribbon yarn. It will be hard to find an obvious substitution, but look for a yarn with some metallic content or with a opalescent shine to it. It should knit up into a relatively bulky yarn.
The contrasting yarn is a very short eyelash like yarn. You would not want something too dense and plush, but a chenille would be a nice alternative. This yarn is bulky as well.
Stitches used:
Knit:
Seed Stitch (SS)
Stockinette Stitch (STst)
Knit 2 together (K2tog)
Make 1 (M1)
Yarn Forward (YF)
Yarn Back (YB)
Crochet:
Chain (CH)
Single Crochet (SC)
Slip Stitch (SL)
Bottom Band
Co 52 in Corsetto on size #13 needles
K4 rows of SS
Cut tail and begin with using Ziti.
Right front
K 25 sts, YF, SL1, place remaining 26 st onto stitch holder or scrap of yarn.
Yarn is now forward with on slipped st. Turn work and SL this st again. P to end
Turn, K24, YF, SL1, YB, Turn (you will not work the last 2 stitches)
SL1, P to end
Turn, K23, YF, SL1, YB, Turn
SL1, P to end
Turn, K22, YF, SL1, YB, Turn
SL1, P to end
Turn, K21, YF, SL1, YB, Turn
SL1, P to end
(Continue in this manner until you are down to one stitch.)
Place all these stitches on a stitch holder or scrap of yarn. Cut yarn.
Left Front
Place the 26 unworked stitches from first stitch holder onto needles and work as Right Front, but in reverse. Do not place on stitch holder when through.
Neckline
You should now have 25 Ziti stitches on each side plus 2 Corsetto stitches in the center. Place all stitches on to #13 needle, as the entire neckline will be worked as one piece.
Row 1: K 24, K2tog, M1 from between the 2 Corsetto Sts, K2tog, K24
Row 2-4 work SS, to middle 5 ST, K2tog, K1, K2tog, work SS to end.
BO
Sides
Pickup 32 stitches along right side, including from edges of bottom and V-neck band.
Row 1: K
Row 2-4: Work in SS.
BO
Repeat on left side
Front Detail
CO 5 with Corsetto
Work 3.75" of SS.
Wrap around middle of front and sew together on wrong side of piece.
Straps
With crochet hook, SC into top corner of Right Front. Chain about 3.5 feet of strap.
Repeat on Left side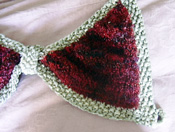 Bottom Loops
These loops catch the strap along the bottom edge.
With crochet hook, SC in bottom outer edge on Right Side.
Ch 3, SC about 3/4" up from beginning of CH.
Work 4 SC into loop just made and SL into first SC.
Repeat on Left Side.
Final Notes
After you've woven in your ends you simply need to put this baby on. It fits most comfortably on me when I cross the straps in back and then run them through the lower loops and tie them together in a bow. You may wish not to cross the straps if you are a little more daring and aren't scared of your straps falling off your shoulders. That's just not a risk I'm willing to take.
Thank you so much for your interest in my patterns. Most of my free patterns were efforts to learn to design and do not conform to industry standards for sizing or terminology. Enough people continue to knit from these designs that I am happy to leave these patterns up for people to use but I cannot offer any amendments or substantial support for them.
As with all my patterns, you are welcome to use these patterns for your own personal, non-commercial or charitable use. If you wish to sell items made from these patterns or teach classes using my patterns, please contact me. Please do not distribute this pattern in print or electronically or post this pattern to your own site or publication. If you wish to share this pattern, please send the person a link to my site.