Back before I moved to Portland and before I took on a plethora of non-bloggable design projects, I was working on a piece knit from Silky Wool.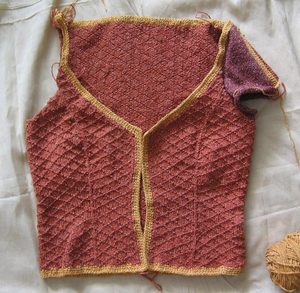 I'm a little further than the last time I posted about it, though there has been a great deal of ripping, knitting, ripping, crocheting, ripping and, well, you get the idea.
I had planned the body of the piece really well, but had left the details such as the sleeves and bands much looser. This is primarily because I wasn't sure how much of the main color yarn I'd have after I completed the body. It turns out I had just a little more than needed to knit the body. So now it's a matter of finding a way to use the other two yarns (of which I had a single skein, each) in the most aesthetically pleasing way. Hopefully, the end result is a piece that will look like it was designed intentionally as opposed to a design driven by a lack of yarn.
While I really love the deep mahogany shade, and considered using it as the trim, I didn't feel it popped enough against the main color, so I used the gold instead. In order to make the sleeves seem more cohesive with the rest of the piece, I threw in a little pleat with the main color, to bring it all together.
I snapped a few very unflattering pictures of me wearing the piece in its current state. You can check them out after the jump.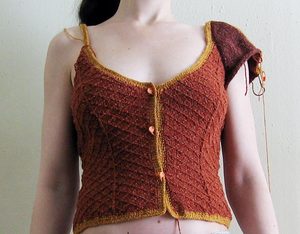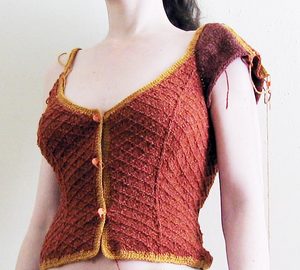 Obviously, the right sleeve isn't done and the piece needs, well, a left sleeve too. I'm not wearing this to the Golden Globes, after all. And everything needs some blocking, so it will sit much nicer once I've taken some steam to it.
I am thinking that the neck and button band will need to be about twice as thick, both for modesty and so I can, someday, manage to throw a bra under it as well. Otherwise, I think I'm happy with it, though the jury is still out until the piece is completed.