This is more of a mini-tutorial, as it assumes you are already well acquainted with the long tail cast on. Many of you may already know this little tip but I'm posting it for those who may not.
Because I know that not everyone has QuickTime, I'm loading two different versions, one is a video, which is more complete and the other is an animated GIF which should be viewable in almost all browsers and is better for people with slow connections.
For the QuickTime movie, click the image below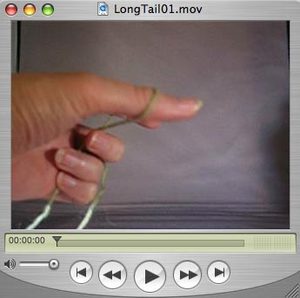 What I'd give to have someone do my voice overs for me :oP
If you prefer an animated GIF, click here.
Each frame should display for about 3 seconds and the whole movie should loop if you need to watch it more than once.