Those of you who have been visiting my site for a while may recall that Leo only celebrates holidays that involve lots of fun having and which are, basically, secular. This means that Halloween, Thanksgiving and New Year's top the list, with a nod to Valentine's day and, of course, a month for my Birthday. However, that last one is more mandated by the relationship than anything.
Since the plan was to have a rocking good time, I made sure that Panda got a nice long walk during the day.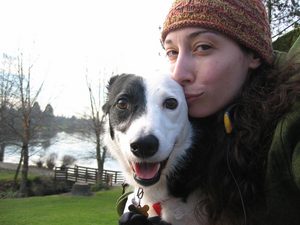 Does anyone notice that besides the lovely view and adorable dog, there is also a new FO in this picture? A few of you have asked for the stitch pattern, but I plan to do you one better and post the whole hat pattern soon. The stitch is from one of the Barbara Walker books, but I'll have to dig back through to get the exact name. More on all that to come, in the future.
So back to the evening's events. Having moved to Portland, late in the year, we were a bit behind the eight ball in coming up with plans. We really didn't know where we'd wanted to go, because we hadn't really been anywhere and once we decided where we might like to go, all the options appeared to be filled up. Thus ensued a mad romp about the internet in search of options.
Leo found this posting online.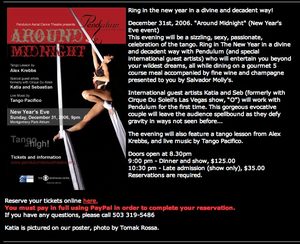 Tango lessons, a 5 course meal and Cirque Du Soleil style acrobatics; it all sounded like a perfect evening.
Well, it wasn't quite what we expected. The reservation secured us a spot at one of the wedding/prom style communal tables for 8 and a chance to visit the buffet and purchase wine by the glass from the bar. While the performers were excellent, much of it happened closer to terra ferma than we expected, so we missed a great deal of it. It wasn't a bad evening, but we still felt it was pretty oversold in the flier.
Oh and there may have been the slight issue in determining where the event was held. The picture above tells you all about the event, but not where it is. Combing their site, I managed to determine where they were performing on December 31st, which just happened to be 37 blocks from the event we had tickets for and lucky us, having taken public transportation in to the city, we found ourselves in a mini-predicament. All that got sorted out with an inexpensive cab ride, though it did put us pretty far from any means of getting home again. Oh, and we'd been warned that starting at about 9PM it would be about a 2-3 hour wait for a cab if we needed it, so if we wanted to take a cab back to the train, we were probably out of luck. Ooops.
Once seated, Leo took to procuring wine and I met our new friends.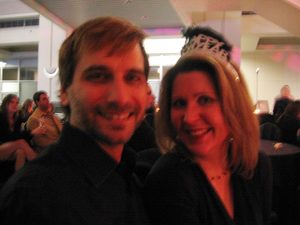 That adorable couple would be Erica and Larry. It's a good thing they are gregarious because I am one of those shy folks who probably wouldn't have said a word if they hadn't been so outgoing. That would have been my loss because they are delightful dinner companions.
Most of the evening's performances were set to tango-like music.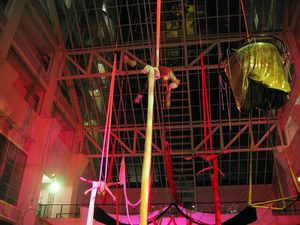 Though, I swear, one piece was done to an instrumental version of Metallica's "Nothing Else Matters."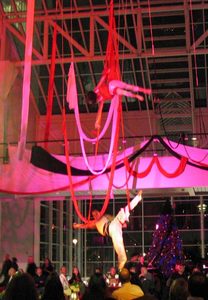 After dinner, there was a tango lesson. I did manage to guilt Leo into a few minutes of dancing with me. But when he lost interest, I began my rounds as the dance floor floozy; dancing with both dance instructors, some old Russian man named Alex, whose wife was getting pointers from one of the instructors, and finally a last dance with Larry, who had taken pity on me and my dance addiction. But I can stop any time. I can.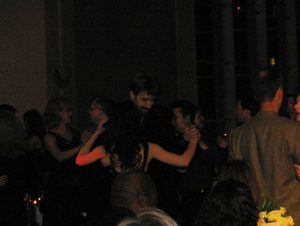 While watching some more floor shows, we heard a rushed "Four...Three...Two...ONE!" and realized it was now officially 2007 in our time zone.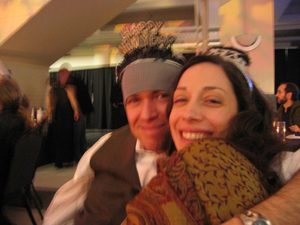 A big wet smooch and hug and then we bid 2006 a fond farewell.
At this point, we began scheming about our plans to get home. Do we see if we can catch a bus back downtown? Do we even know which direction downtown is? Can we walk to a train station? None of that was necessary, instead, Larry and Erica invited us to join them for wine at their place and we jumped at the chance. They'd been so much fun to talk to AND they'd get us close to public transportation and cabs. What good fortune for us.
They have the most lovely and immaculate place in the Pearl. Did I mention is was also impeccably clean? Dear lord! I can understand having your place in order when you plan to invite folks over, but who the hell has their house that perfect just for normal every day living? Damn them!
We kept them up for another few hours, Erica and I talking fondly of road trips and pets, the guys discussing, who-knows-what.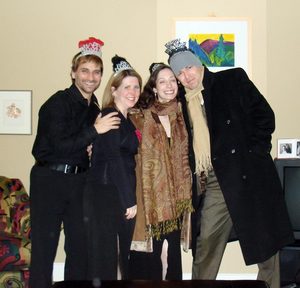 At nearly 3AM, we decided we'd imposed ourselves long enough and began our voyage back to little Panda and the warmth of our home sweet home. But I don't think that's the last we'll see of them.
It may not be what we expected but it was a great way to start the year.