See, I do knit
I've been reknitting Deciduous before I finish up the pattern. Here is the front and back. For photographing purposes, white would probably have been a better choice, but for something I'd actually wear, I do so love me some purple.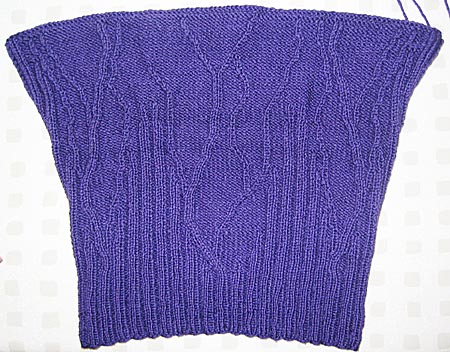 I think this piece is the perfect example of why some things look best modeled. I think it's rather uninteresting in this form, but
worn
, well that's another story.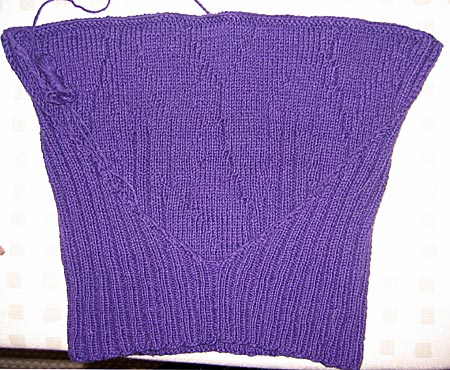 I'm actually playing around a bit with how the back is worked and I'm pretty sure I like my first go at it better than my second. It'll be more clear when I install straps and the lacing. If all goes swell, I might have a first draft of the pattern done over the weekend.
And guess who treated herself to a touch more roving?
If you guessed that it was me, then you are a brilliant thinker. Pat yourself on the back.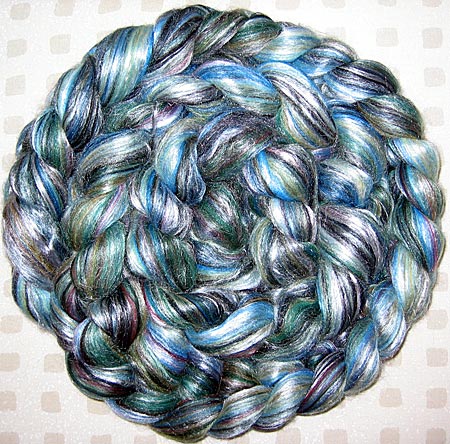 This is a lustrous and soft Merino and tussah Silk blend in a colorway called McKenzie. You can see it over
here
. I wasn't sure how it would spin up considering all the colors. Blues dominate, but there are purples, greens, and burgundies too.
This is what I got.
The dark black shade really dominates and shifts everything to a deep blue but the other colors shimmer like iridescence within it. It's sort of tweedy with just a hint of fuzz. I love it. I may have to switch to my 0.6 oz spindle for the next batch. The 0.9 oz works great, but still has a tendency to get away from me.
Oh, and for those who don't mind a touch of politics thrown in, it looks like someone else had the same funny idea that
Leo
did. Here's Leo's design: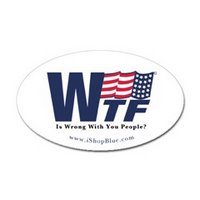 Now check out
Shirts So Good
. You'll have to scroll down a bit. I might be biased, but I like Leo's design better. ;o)