Mohair
Not too long
ago
, my mom gave me 8 gorgeous skeins of purple Kid Silk Haze. It's been calling to me from my stash awaiting the right project. Vogue Knitting arrived at my door and I decided that I wanted to make this: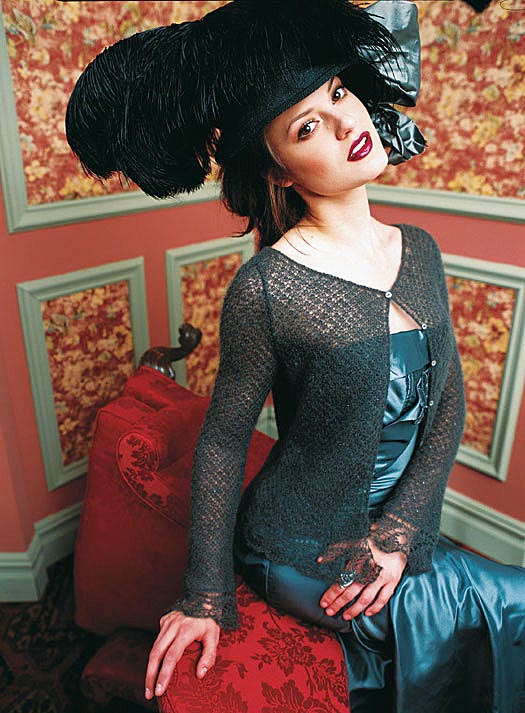 Pretty huh? I think worn with slacks and a nice shirt, it would be great for work and keep me snuggly warm in the cold office.
So at lunch on Monday, I cast on for a swatch. It was not a pretty sight. The mohair, it was very argumentative. Dropping stitches, tightening up unpleasantly at the circular join, pretending it's fuzzy bits were the actual stitches instead of the knittable core. We had words. These are not words I would say around my grandmother.
I decided to give myself a little break. Mohair and I both needed a little breather to clear our heads. While the word "petulant" came to mind on a few occasions. As did "garbage disposal" and "fire pit." I decided not to be rash.
We tried again on the bus ride home. I took my time, I thought happy thoughts about the mohair. "My aren't you looking lovely today." and "Ah, what a delightful hand you have." Working slowly and loosely, I managed to crank out a little swatch by mid-evening. We blocked and checked gauge and did not distress when we realized we'd need to use a larger needle. We did not despair that one row where we did the wrong pattern stitch. It is a swatch, after all. When all was said and done, I knew I was in trouble, I loved the swatch even more than I thought I would. The photo doesn't do it justice in the magazine.
Here's a close-up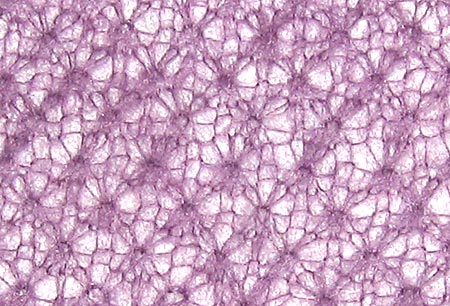 Pretty, huh? The pattern calls for seed beads to be knit in every few rows, but that's just impractical for day wear, and it'd be hard to match the color.
So I cast on the back and have been knitting it for two days with this to show for it.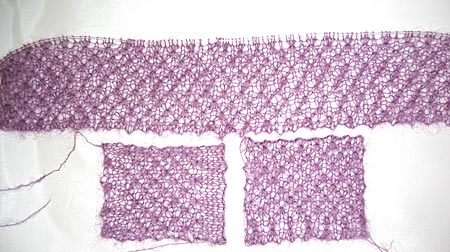 Two days of knitting and I have little more than a headband. This is the slowest knitting I've ever done. It also appears that I may have a few rows that are slightly off. This does not surprise me. Several times now I've found myself with an extra stitch at the end of the row. I had hoped it'd be imperceptible, and for the most part, it is. When I hold this up in normal lighting (as opposed to sitting on a white sheet using a flash), it appears quite uniform. I think, knowing that it's the back piece and that normal lighting is a little more forgiving, I will proceed a bit further before I start thinking about defeat.
If you don't hear back from me in a week, you'll know I'm wandering the streets of LA suffering the crushing insanity brought on by MI (Mohair Ineptitude).
And now for something completely different. I recently bought the first two seasons of Penn & Teller's
BS series
. If you get Showtime, you must watch it. It's wonderful. It's definitely not kid appropriate, so put the little ones to bed first.
If you don't get Showtime, then you'll have to do what I did, and pick up a copy yourself.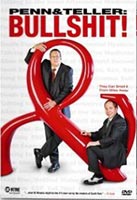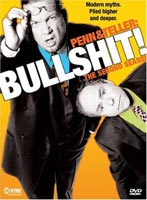 You can click the images to get to them on Amazon.