I have been knitting
I swear, I do still knit, it's just all stuff I can't show you until it's published.
For one thing, I just mailed off my piece to
InKnitters
with that lovely La Lux I showed you all in an
earlier post
.
I can only show you a little swatch of what I sent off.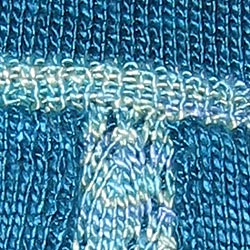 Additionally, I'm working on a piece for
Spun Magazine
which is coming along nicely. Once again, all you get is a swatch.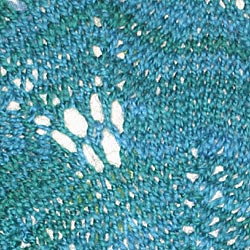 I swear it was mere coincidence that both companies sent me the same general color scheme.
I also had a horrible moment of weakness for which I have no excuse. I used some of my Cloche sales money to get myself a whole whopping order of
this
in Aubergine. *sigh* It's lovely, no?
As soon as I'm done with my current project I plan to do some proper blog worthy knitting for all of you.
In other news, I get my yearly performance appraisal today, at work. Despite the fact that my boss has said nothing but encouraging things to me, I'm terribly nervous about being "appraised". Keep your fingers crossed for me.