Back to Knitting
Well, people are joining the PIP along in droves which is wonderful, but I'll keep talk of that to that blog and stick to normal knitting topics here for those of you trying to avoid politics.
But before I talk about knitting, check out this artichoke!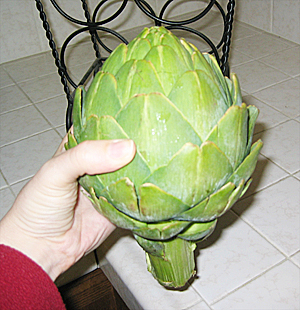 It's HUGE. You see that Mom? I love California.
On All Things Considered on
NPR
there was a
segment
about a string of artichoke thefts in Castroville, CA (the world artichoke capital, of course). I just want to say, for the record, that I have been nowhere near that area during any of this. Thank you very much.
Speaking of beautiful things that some describe as "delicious," take a gander at these: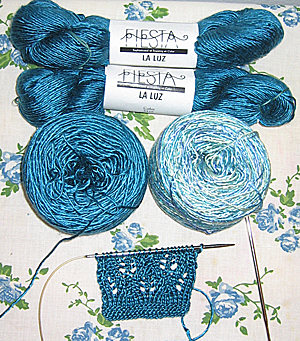 They are beautiful, no? You can get the yarn specs
here
. It's for a project for
InKnitters
so that's all you'll see of it until the project is published, but I had to give you a sneak preview of the yarn. It's not quite as shiny as the picture would have you believe, but it does have a nice sheen. The swatch is being knit on my Addis because a gorgeous yarn deserves the best needles. Actually, that's sheer luck. I only have Addis in one size, US #5, and I look for any opportunity to use them.