Maiden Voyage
Did you know that the only items I've made and actually worn out are my hats, scarves and mittens? They are often the items that are so small I hardly think they are worth posting on my blog. Well, I got
Bella Paquita
back from
Artfibers
, this weekend and I decided I'd make the modifications outlined in the pattern and wear her to work.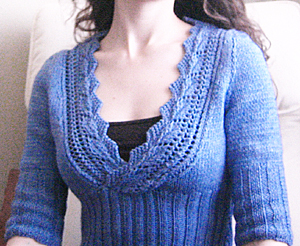 I snapped this picture quickly before Panda got completely jealous and jumped in my lap. I would show you that picture but I'm making the most frightening baby talk face and I just don't care to advertise that.
All I did was pinch the lace up at each shoulder seam and sew in a dart to allow the lace to lie completely flat. I then sewed the dart down flat towards the back of the piece. It worked out very nicely as you can see in the picture. I did opt to wear a camisole under the sweater so as not to put on too much of a show.
In other news, I got more yarn from people requesting patterns. There are advantages to teaching yourself to design.
That's three skeins of Koigu, my friends.
It's interesting, for the past two pattern projects I've agreed to take on, I've told them what I want to do and what yarn I'd like to use but I've left it up to them to pick the color and in both cases they've sent these deep teal colors. It's not normally a color I gravitate to, but since the colors have been so rich, I really think they are lovely.
Finally, I'm making a second ribbon choker, this time for the Knit for the Cure event hat that
JenLa
blog promoted. This time, I'm modifying it so that instead of picots throughout the choker, I'm using beads. I hope to post a pattern in the next couple of days.