This entry has also been posted at the Create Along.
Knitting has nearly slowed to a screeching halt now that there's a new pup in the house, but what knitting there has been has been good.
I've worked up to where I'm starting some neckline shaping on Lily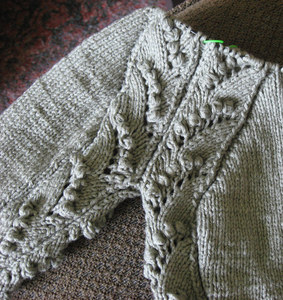 The fit seems fine, though it's always hard to tell before the neckline is done.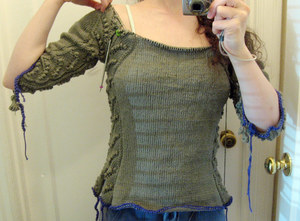 I will probably work a simple 2 or 3 stitch i-cord edging for the hem and sleeves. I think that will be the least disruptive treatment and will be OK both on the busy sleeve and the simpler hem.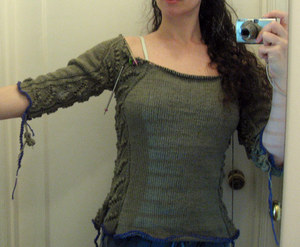 As for the new member of the family, I think we finally have a name that everyone can agree on. The name is now, Theano Purl, Thea for short.
Theano was believed to be the wife of Pythagoras, (he who brought us the calculation for determining the hypotenuse of a right triangle,) and likely continued his work and ran his school after his death. We wanted a name that gave a nod to the sciences but which was also a cute doggy name. We considered "Evo" short for "Evolution" and "Jane" for the one and only Ms. Goodall. Neither name really stood out as exceptional names for a dog. Theano, though, very cute. I got to keep Purl as her middle name too so she can be little Thea-Purl, if the mood strikes.
See a bunch of pictures of the two girls by clicking the photo above, or clicking here.