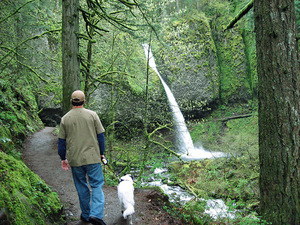 Leo, Panda and I went on an amazing hike and beautiful drive, this past Saturday. Our original intention was to go to Mt Hood and enjoy its splendor, but we got sidetracked and by sidetracked I mean that Leo didn't believe the maps, GPS, or various signs on the road, that Mt Hood was that-a-way, not this-a-way. But who cares, where we ended was more beautiful than I could have hoped.
It was rainy and cloudy, but hardly a drop fell while we hiked and no one, not even Miss Pukey Pants herself, got sick in the car. In my book, that's a winner of a day, all around.
Want to see a bunch of the pictures (not all, I took nearly 200)? If so, just clicky right here.