This phrase pretty much sums up the first 24 hours we've had with Purl.
Purl is a loving and eager little girl and she wants Panda to like her so so so much. It's really quite sweet. However, Panda is not convinced that this interloper deserves anything more than disdain. In fact, she has serious concerns about the fact that we have done nothing about the little girl; for instance, throwing her into a river. Consensus? Panda is a crotchety old woman and we never knew it.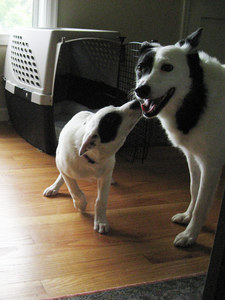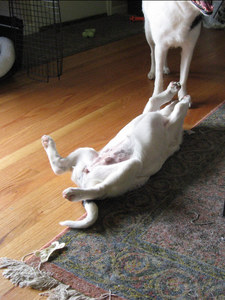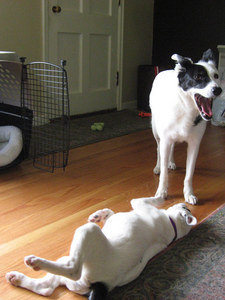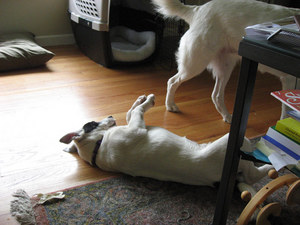 I feel really good about Purl, though. She's exceedingly well socialized, thanks, I'm sure, to a good foster home she was in. She has already responded well to clicker training and can now sit on command. Crate training is going a little slower, but she's so food driven that giving her treats and meals in there has helped a bit. She basically cries for 10 minutes then goes right to sleep. In time, I think she will love her little house, but in the mean time, this is very manageable.
The leash and collar are a little more challenging. They are just beyond her comprehension, but I think she just needs a few days and she'll be all set. Plus, she's so tiny, it doesn't take long to tucker her out, so getting her leash trained will mean plenty of fun walks where she can play and interact with dogs who aren't snobs.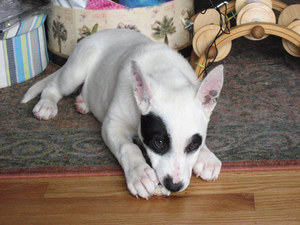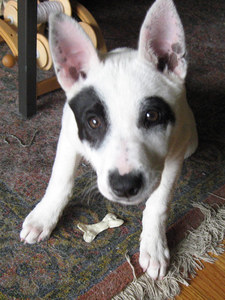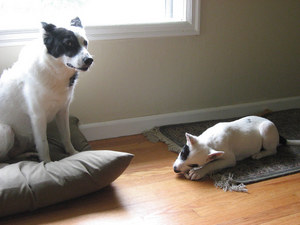 Don't you worry, though, Panda is getting as much love as ever and Purl is being expected to follow house rules. Panda is even helping with the training, albeit, unwittingly. I give Panda a command, praise her, then work it with Purl.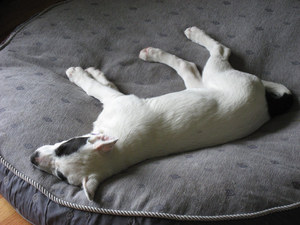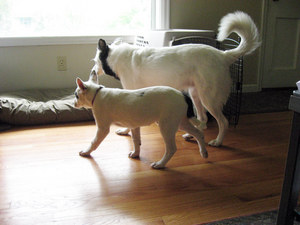 Don't worry, next post will have some knitting content. Lily is coming along beautifully.