Knitting Meme
Jody
tagged me for the Knitting Meme, so here goes
What is your all time favorite yarn to knit with??
Hmm, I don't really have a favorite per se. I like different yarns for different reasons. I do not feel emotionally drawn to one more than any other. I can pick a few top choices, though
Karabella 8 (I'd like to try the finer gauge Karabella 4 at some point)
Koigu KPM
Calmer
Your favorite needles?
If I could only have one kind of needle I'd choose Addis but I enjoy using my Denise interchangeables as well.
The worst thing you've ever knit?
Oh good lord, there have been some doozies. Most of my really priceless pieces were knit back in my youth. At one point there was a bikini knit in pink red heart which I could have donated as shelter for the homeless. It was huge, gauge meant nothing to me then.
Your most favorite knit pattern? (maybe you don't like wearing it...but it was the most fun to knit)
I have knit very few patterns by anyone else. I guess the most well conceived pattern I've knit would be Annie's
Corset Top
.
Most valuable knitting technique?
Techniques all have their purposes and none except knit and maybe purl, get used in every project. But more than that, I think learning that it's ok to make mistakes is really important. You have to be able to rip things out, even whole pieces, when necessary, but you also have to be able to let go of little mistakes. Ballance is key.
Best knit book or magazine?
Despite the fact that I don't like any of the projects in the book, Jacqueline Fee's
The Sweater Workshop
has been a great tool.
Your favorite knit-a-long?
Hard to say, I've been a member of so few.
Your favorite knitblogs?
I'm not touching THIS one with a 10 foot pole. I have way too many in my Bloglines account to pick a favorite.
Your favorite knitwear designer?
If I had to pick only one, I'd say
Teva Durham
.
The knit item you wear the most? (how about a picture of it!)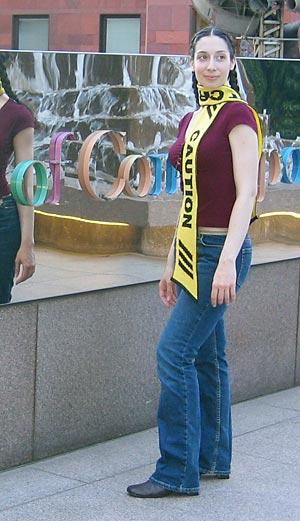 It'd have to be my
Crime of Fashion
scarf. I love scarves and this one is backed with fleece so it's very snuggly. Plus, it's the one item that when I wear it, people stop and do a double take and say things like "is that SUPPOSED to look like police tape?"
Who am I going to tag?
Well, I'm not one to push these things on to people, so they should all feel free to decline, but if you are game, I'd like to see replies from:
Julia
,
Jessica~
and
Shannon