So much yarn
Ok, so I treated myself to some yarn, as I mentioned in my previous post. I'm not unlike a lot of you, I think, and there's a good amount of yarn in my stash that I have plenty enough of a crush on to keep me going for a good long while. In the flop hotel that is my yarn stash, there are no "vacancy room for rent" signs anywhere. So when I came home two days ago and there wasn't one, not even two, but THREE boxes of yarn awaiting me, I started to wonder if Leo and Panda were going to plan an intervention.
Actually, all the yarn is for Knitty Gritty. They send you yarn for you to knit your step by step pieces, to use throughout the show. Now, if you are a regular reader, you know that I needed a couple weeks to get those done. I shoot in a week and a half. I knew I would need some time, so I went ahead and got myself some yarn. But I have to say, I'm a little sad I didn't get their yarn sooner. They sent me some great stuff.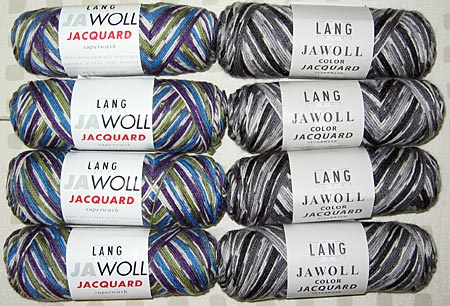 Have any of you used this before? It's Lang JaWoll. It's self patterning but it's much softer than either Regia or Opal. I think the colors are cleaner and brighter than those in Opal. But it has another little surprise.
If you stick your fingers into the center of the skein as though to find the end, and root about a bit...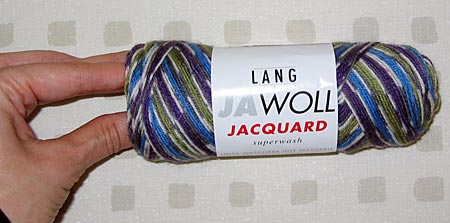 You'll find a little plastic something or other in there.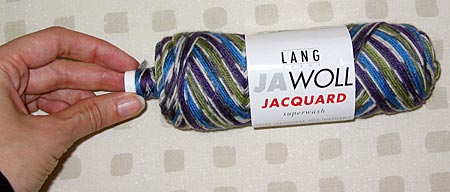 Pull it out and take a look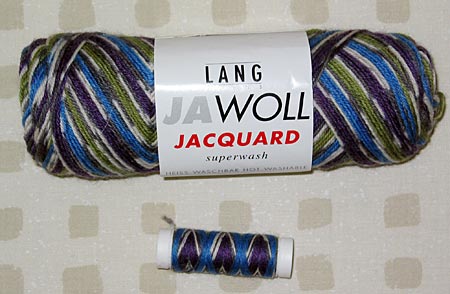 It's a mini spool of completely matched reinforcing thread for toes and heals. Do you see that? It's not a solid color that dominates the color way, it's space dyed to match the actual yarn. I love that.
If any of you have experience with this yarn, I'd love to hear your thoughts on it. I'm really excited to knit with it, when I have some more time.
Additionally, I got some yarn to reproduce the
COF Scarf.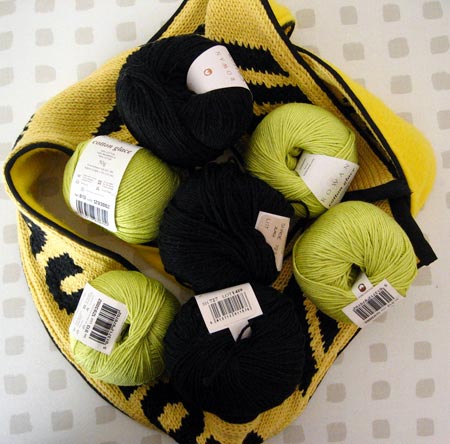 Can you tell that the yellow is actually very different? The original yellow was more warm in tone, this new yellow is cooler, nearly green. I actually think the new one might be a better representation of crime scene yellow. I doubt it'll matter once under the bright lights of the studio.
The last thing I got was some gorgeous Karaoke for my role as Knitster. Since it's for someone else's segment, I'll leave out any details and wait for her to post about it on her
blog
after we shoot on the 14th.