Is it nap time yet?
It seems like I've been non-stop since Thursday. I took a half day from work so I could make myself girly enough for TV.Got my nails and brows done. I feel so Hollywood. The conversation regarding the later went something like this,
"Who does your eyebrows, you?"
"Um, yah."
"Don't do that. I'll do your brows, you make a mess of them. Look at how uneven they are."
She did a good job.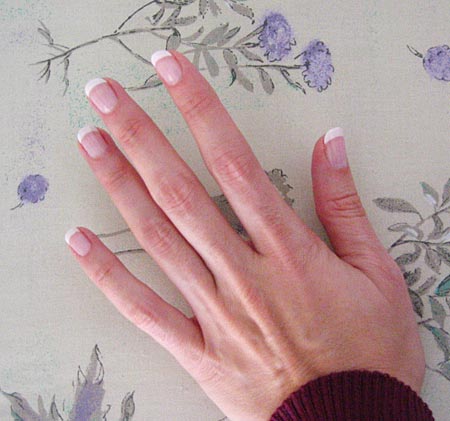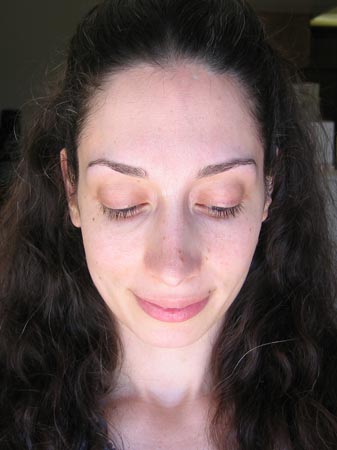 Though it appears that only women who work in salons feel that I'm a complete walking
disaster when I do my own.
After that was dinner with
Shannon
,
Jenna
,
Kristi
, and
Julia
.
I had only talked to Shannon and Jenna via email and had simply admired Kristi's work before, so all three people were near strangers to me. My inner dork was a bit nervous that the meeting would end up being uncomfortable as I am, well, a dork, but much to my relief, everyone was delightful. I just regret there wasn't more time to spend with all of them, especially Jenna who was not at the next day's taping.
Speaking of which, Shannon's show went amazingly well. If you didn't click Kristi's link above do so now, you can see a couple pictures there. I'm sure Shannon will have some up too, and
Vickie
has a blog with a link to even more
pictures
.There are some darn cute pics among them.
Here's Panda in Shannon's dressing room. Those of you who loves you some Panda, will be
happy to hear that she'll be making an appearance on TV in the next year or so. I wasn't sure she'd do all that well, but my fears were unfounded, she did a great job and looked cute to boot. I love that people commented on how well behaved she was.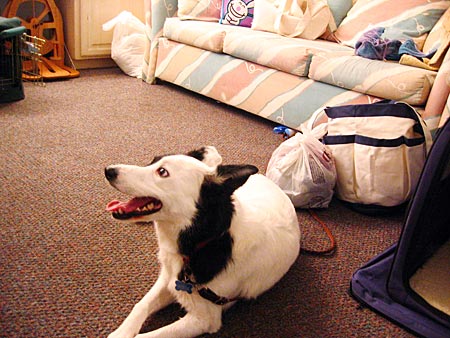 To me it seems obvious that when you ask your pup to sit and stay, she should, you know, sit and stay, but I won't begrudge anyone for complimenting me on that feat. One of the things I love about Panda is that she hasn't let fame go to her head.
Lestat on the other hand was pure diva. Here he is surgically attached to Shannon's lap. He was pretty much whoring himself out for love and admiration.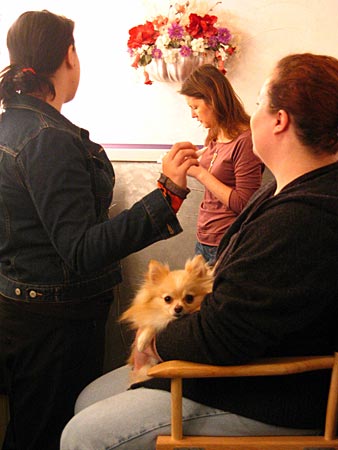 He also did really well. I can't wait to see them on the episode next year. I'm far more excited about that than I am about my own appearance.
Unfortunately, I had to flee the scene as soon as we wrapped. My parents were in San Diego for the weekend and had to leave by 10 AM on Sunday so I couldn't dawdle and spend time with all the great people. I was most sad to miss the opportunity to talk with Share.
I've talked with her via email and she made a point to say hi to me after the shoot. I was frantically trying to wrangle dogs and yarn towards the exit and had only long enough to make a quick greeting. Having seen a little peek of what she was working on, I think she'll have a great episode in store for us next year. The color pink plays a staring role.
Check out the link to Vickie's photo album to see some of her swatches.
Well, I think I'll wrap this post up before it takes over my whole blog. The next edition will have sunny San Diego and yummy yarn.
And to all of your hat suggestions from last week, thank you. You guys are amazing. Even Leo had to admit that there might be some merit in getting a new hat as long as we didn't throw out the old one. I'll take what I can get. I'm all about compromise.