I'm just wild about Annie
Yesterday, I had the great fortune to be able to take
Annie Modesitt
's Love Your Lace class at the
Knit Cafe
. While the class was briefly disrupted when a very sweet member of the class had an unfortunate fall on her way to feed the parking meter, overall, the class was great. I'll spare the woman the embarrassment of having her name mentioned, but if she happens to swing by my blog, I'm sending my best wishes. I hope things heal up quickly.
The class was great and Annie had a bunch of samples of her work. Let me tell you, she does a nice job photographing her pieces, like the
corset
, but it's nothing like seeing the piece in person.
Class was really interesting, I love seeing how other people approach the task of teaching. I'm not terribly confident of my own teaching skills so it's really great to see how others tackle the various topics. Seeing other peoples swatches and watching them learn new skills is also exciting. Each person gets there in his or her own way and Annie does a good job of providing the info in as many ways as possible so that they can all reach the same end.
This is my sampler of lace from the class. There wasn't time to finish the last motif, but it started off really nicely, don't you think?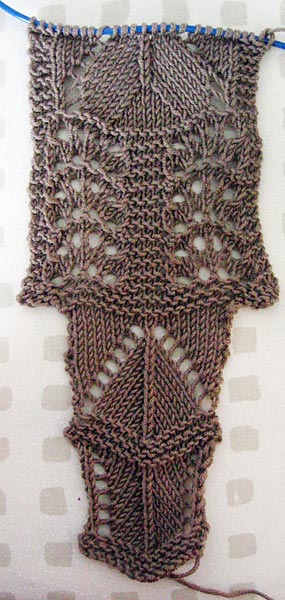 Since everyone knits at a different speed, and I'm a relatively fast knitter, I also had time to play around with the wire that Annie brought.
Here is the front of a little bit of lace I did. It's a sport weight linen with a bit of copper wire. I love the way they play against each other. I don't think the photo really shows it that well.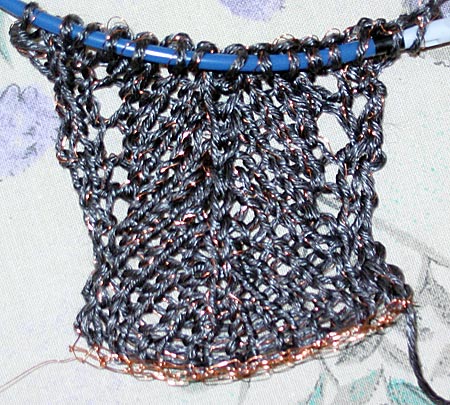 This is the back of the swatch. I think I prefer the way the purl bumps show the wire.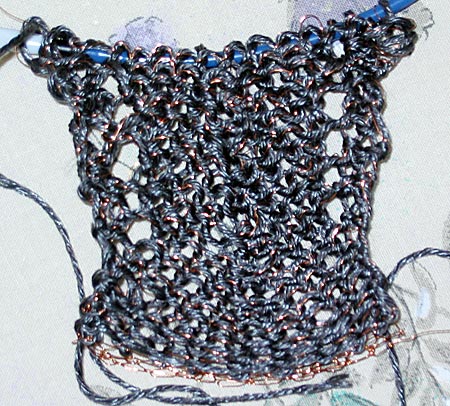 A garter stitch lace would be striking. Annie does up amazing lamp shades in a similar manner, but I'm thinking it'd make a great evening bag. The wire would give it structure and the yarn would make it more substantial. I'm not sure how durable it would be, but as a concept piece, I think it could really be something interesting.
Of course, I couldn't let Annie leave without grabbing a picture of us together. Do I look giddy?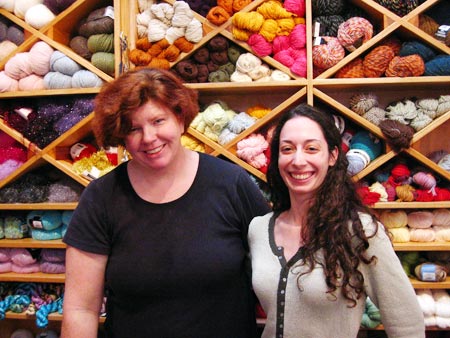 I'm standing in front of cashmere next to Annie Modesitt, that's just about as good as it gets.
I hope if any of you have a chance to take one of her
classes
, you will.
Appropos absolutely nothing, on my way home there were a bunch of motorcycles and this...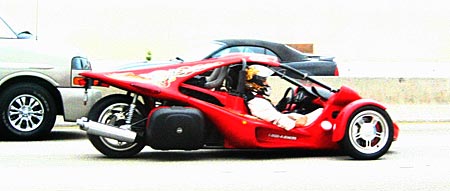 driving along the 405. Cute huh? It looks like a motorcycle in back and a couple extra wheels in front with a little sporty body. It seats two so you can take a date along.
Last but not least, please get your tushies on over to
Hanna's blog
. She's knit up my
Erte
cloche and it looks super fab on her. I love the color.