Whole lotta pictures
Well, this long weekend is off to a lovely start. I've been knitting away on
Hopeful
and I'm finally feeling good about the results.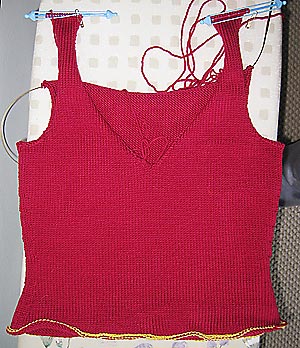 I tried it on and it fits like a dream. I still haven't committed to a treatment for the hem of the piece. I'm just not wild about horizontal ribbing. Part of me feels like I should try it and see if I like it when it's done and part of me says that extra bulk and horizontal design motifs at the lower belly are just not a good idea for anyone but the most petite of women (as the designer obviously is). I have to go trekking through a few more stitch libraries before I come to a final conclusion.
Moving on to other things, Leo took me for a lovely meal in Long Beach last night. We went to a place called the Sky Room which was amazing. It's atop a hotel built in the 20s so the feel is pure Art Deco. The view is just stunning and the food is nothing short of heavenly. We got there early so we sat in their lounge area.
Here is our table and view.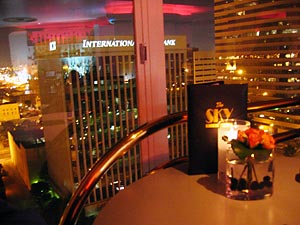 And here we are enjoying a cocktail.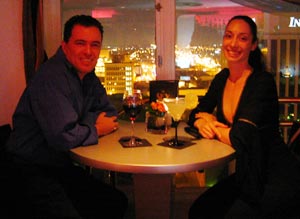 There was a live band playing standards, swing and jazz. People were dancing away.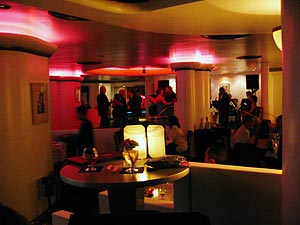 I didn't get any pictures during the meal, mostly because I was too busy stuffing my face, but we did a bit of dancing, lots of eating and then we wandered up to the balcony which was open air and afforded a 360 degree view of the area. We were told that on a clear day, you can actually see the Hollywood sign from there.
These are a few of the shots we got from our vantage point.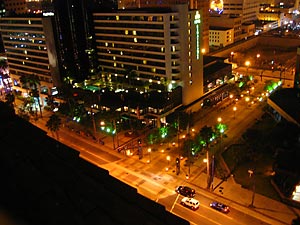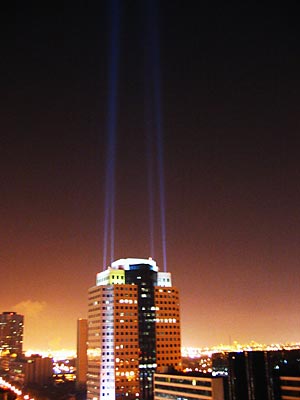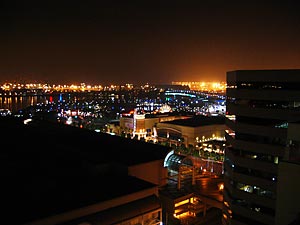 Having gotten a wonderful piece of steak from the restaurant, we had to bring home a little something for the girl. She deserves every bite, but I still make her work for it.
Actually, if either Leo or I are busy at the computer, and Panda wants some love, she will quietly position herself thusly until you notice.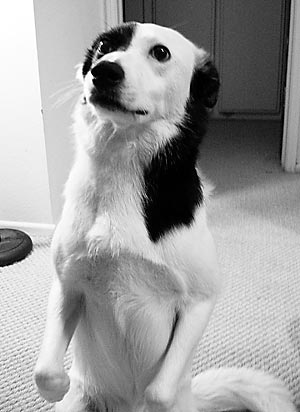 Here she is from a slightly different angle.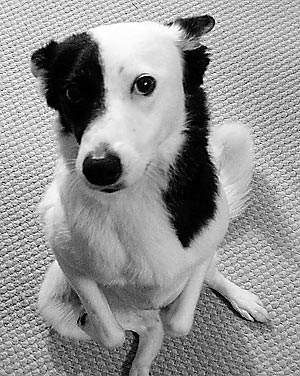 It was hard working both the camera and posing Miss Bear, so I had Leo take the next shot.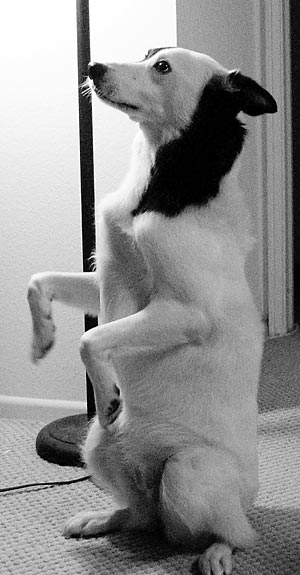 You can see how long her torso is and how much she has to balance for that little bit of beef.
Oh, come on, like you wouldn't bring something yummy home to that face.