Recycling Money
I recently got a bit of money for a design and I made a conscious decision that I wanted to put it back towards something that would help me be a better designer. Yarn and needles are great tools, but over and over again I find myself leafing through my collection of stitch libraries and feeling like there should be more.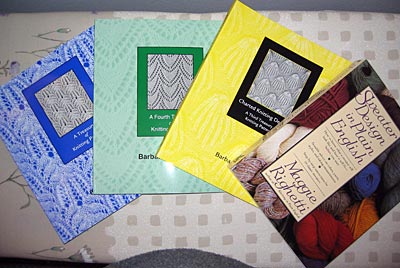 My first shipment of books arrived yesterday. I have another order coming soon.
I got three of Barbara Walkers stitch libraries, with the fourth scheduled to arrive in the next month. I also got Sweater Design in Plain English which appeared to have great reviews overall. I'm not sure how much or little I'll get out of the last book, but it certainly can't hurt.




Click the books to see them on Amazon, but do feel free to support your local privately owned book stores, if possible
I'm driving into work most of this week because I have to stay late for some meetings, so I haven't gotten much knitting done. Riding the bus affords me lots of knitting and podcasting time, and I'm missing it more than I thought I would.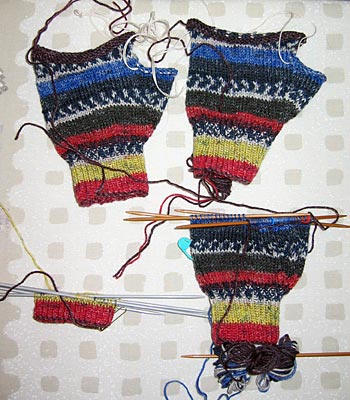 I've just started my fourth partial
HFM Glove
. I've been sneaking in little bits of other knitting every once in a while, but I'm trying to stay on course. I'm definitely someone who craves a bit of variety and it's taking a lot of discipline to stay on course.