The new
MagKnits
is up, and I've got a
little pattern
there.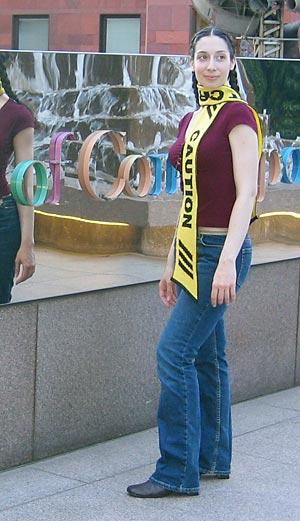 Yes, I seriously knit a scarf meant to look like police tape. It had to be nearly 100 degrees the day Leo and I took the pictures for the pattern so I'm sure passersby were perplexed, but I think some great shots came out of it.
There are some other wonderful patterns this edition as well, so please check out the whole thing.
For any of you folks in the market for some inexpensive yarn, Webs is giving 10 percent of each purchase made to relief for victims of Hurricane Katrina. Here's what their email says.
Dear Customers, over the past couple of days, all of here at WEBS have been moved by the devastation that Hurricane Katrina has brought the Gulf Coast. The magnitude of this tragedy is overwhelming. We met with our team here and we all agree that we need to do something. So, starting today, for the next 10 days, we will donate 10% of all purchases to the American Red Cross. If you order on-line, over the phone or shop in our Northampton store, 10% of your purchase, through September 10th, will be given to the hurricane relief efforts of the Red Cross. There is nothing special you have to do, just shop.

We hope you will join with us in supporting this very worthwhile cause for the people who have lost so much across the Gulf Coast States.

www.yarn.com

Sincerely,

The Elkins Family and the Webs Team
I hope you'll consider supporting their efforts.
Well, I'm still plugging away on my Hopeful pattern.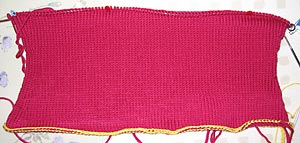 And I've machine knit a few swatches to make my mom a sweater like the orange one you may have seen a
few posts back
.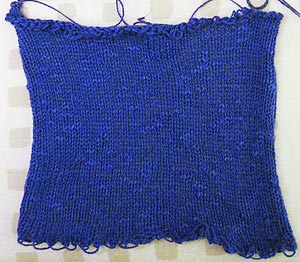 The first is a very drapy, fine weight cotton with little slubs in royal blue.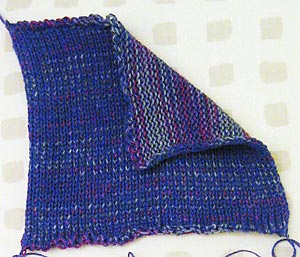 The second is two strands of a similar weight cotton "plated" to produce a pseudo double sided fabric. The front is predominantly blue, but the back variegated tones peak through. The back is the opposite and in reverse stockinette. What's nice about this option is that the sleeves will show this double sidedness because of the way they fall. The downside is that the fabric is less drapy than the previous.
Mom, feel free to chime in on your preferred fabric choice.