That's Pucking Fishy
I generally keep in touch with my parents via email. We see each other a few times a year when either they or I fly out to the other's region, but mostly, we correspond by email. It works well. I know they are OK, they know I'm fine, it doesn't cost anyone a thing except for time.
But sometimes I wonder about them.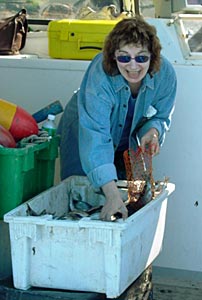 My mom's been loading lobster traps, with her BARE HANDS. This woman would prefer not to turn down her own bed (especially since turn down service usually includes chocolate). Now, here she is, chin deep in chum.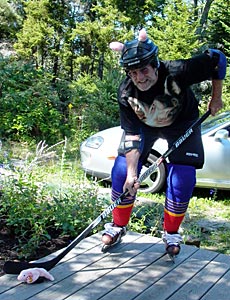 And Ben joined his company's hockey team (only slightly weird since he used to play a lot of hockey). Then he revived what old hockey gear he could, bought what new gear he needed (fairly normal) then decked himself out like a pig (exceedingly weird).
"Well, the team has a porcine theme." You might suggest.
No, in fact, their mascot is a wombat.
That's weird Ben, very very weird.
Can anyone tell me what the early signs of dementia are?