Going Hollywood, Again
Well, firstly, I have to say a big "thank you" for all your sweet compliments on the new pieces. It's great to hear such sweet feedback. For those who asked to whom I did not have time to write back, here are the vital stats.
The Machine is the LK-150. I bought it from my instructor,
Leah Walton
, who
sells them
on her website.
The
class
was offered through Otis College. If you live in the LA area and want to take the course, the $340 for 10-3 hour classes is a pretty good value.
As for patterns, I have a few deadlines to meet right now, but after that I will see what I can offer for you.
In other news, it looks like
Knitty Gritty
will have me on for another episode. I'm tentatively set to shoot on October 19th. I'm not sure what season I'll be shooting for. Last year, they shot seasons 2 & 3, but only season 2 has aired, which means 2006 will probably be season 3. I'm guessing they are shooting two more seasons now, which means, theoretically, my episode might not be on until 2008. So to all of you out there, please don't lose interest in knitting during that time, ok?
Finally, I have some great non-knitting photos from my friend's wedding tiki party. They are all taken by her very talented brother, Bodie.
So here are Chrissy and me. You can't see it, but Chrissy's dress was hand made by her sister Mandy. It was beautiful. Chrissy's lei is a gift from some close friends.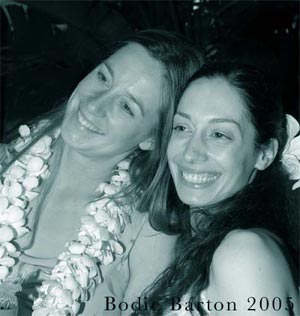 Here is Mandy with long term boyfriend, Dave. Mandy also made her own dress which you cannot see.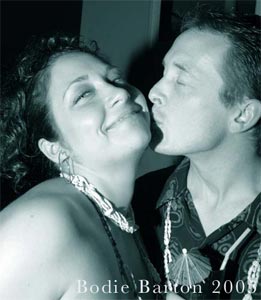 Oh, there's the dress that Chrissy wore. This is also the official cutting of the wedding cake. It was a somber affair indeed.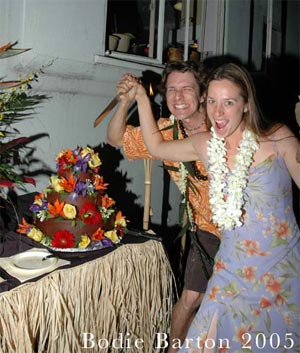 Since the party was at Chrissy and Jeff's house, the dogs were in attendance. Here's Mina being, well, herself. Both Dobermans fancy themselves lapdogs.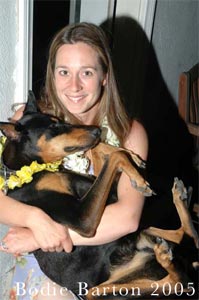 And here's Dreagin. Yah, he's happy.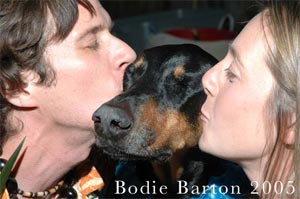 The next two are from the next day. Here's Jeff playing a little Lance Armstrong for ya.
And here are the two nieces (Bodie's daughter in front and Jeff's brother's daughter in back) going for a cart ride with the pups.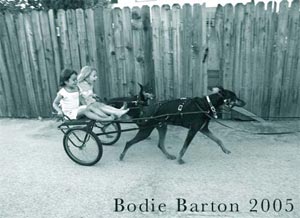 There are tons of other pictures, but I won't post them here.