Loving my corset
The corset is complete. I found buttons, sewed in all my ends and I think it fits great. It's a wonderful pattern. I made no major modifications to the pattern as written.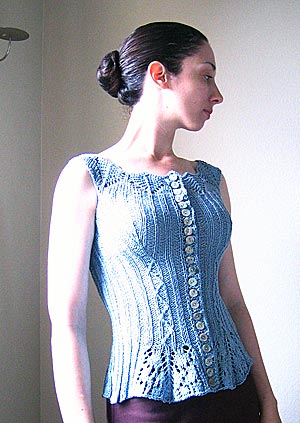 Details:


Pattern:
Corset Tank Top
by Annie Modesitt
Yarn: Just over 4-50g/121 yd balls of Filatura Di Crosa Brilla
Needles: US #6
Pattern size: XS/35" chest
(I am a 36" chest but since I was using cotton and wanted a fitted look, I went for a smaller size.)
Buttons: 5/8" shell buttons sewn on using the
thread shank
method

Modifications


Worked Chart D normally on right side and reversed on left side so that zigzags would mirror each other.


Work an additional 4 rows of last set of charts so that there would be three rows of knitting above the top button as well as three rows of knitting below he bottom button.


I needed a total of 22 buttons

(pattern calls for 20)



For crochet along placket, I worked 3 single crochet for every 4 rows of knitting.


For crochet along top of lace, I worked 1 single crochet for every stitch, but three single crochet at the top of each lace peak to enhance shape.


Worked in a single color instead of two colors


Otherwise, I worked the pattern as indicated. I did not need to modify any of the shaping to achieve a nice fit.
Here's the back.